The easiest no bake cheesecake recipe
This is a super easy dessert that I have been making for years! I am not a baker whatsoever but anybody can make this. It's only six ingredients, doesn't require very much effort, and it's delicious. Plus it's CHEESECAKE. Cheesecake is the most delicious thing on the planet! I don't know about you, but no-bake cheesecake is one of my favorite desserts.
Here we go!
NO-BAKE CHEESECAKE RECIPE
Disclaimer: This is not MY recipe. Credit goes to the EagleBrand website.
Preparation                                                                 
10 minutes plus chilling time
Makes
6-8 portions
Ingredients
-1 pkg 250g cream cheese, softened
-1 can 300 ml sweetened condensed milk (the recipe calls for eagle brand as it's from the eagle brand website)
-1/3 cup lemon juice
-1 tsp vanilla extract
-1 (9"/23 cm) prepared graham cracker crust or baked pastry shell (you can buy one or quickly make one, use the one from my key lime pie recipe for instructions)
-1 can (19 oz/540 ml) pie filling, chilled (it calls for cherry in the recipe, but you can use whatever filling you want…I like to use raspberry or strawberry rhubarb) 
Directions
1. Beat cream cheese until fluffy. Gradually beat in sweetened condensed milk until well combined. Stir in lemon juice and vanilla.
2. Pour into prepared crust. Chill 3 hours or until set (again, I always like to chill overnight if possible as I find it tastes better).
3. Top with desired amount of pie filling before serving. Garnish with grilled almonds, or as desired. (I've never garnished with nuts, but once I add the pie filling, I do throw it back in the fridge for a bit to chill unless you already chilled the pie filling on its own).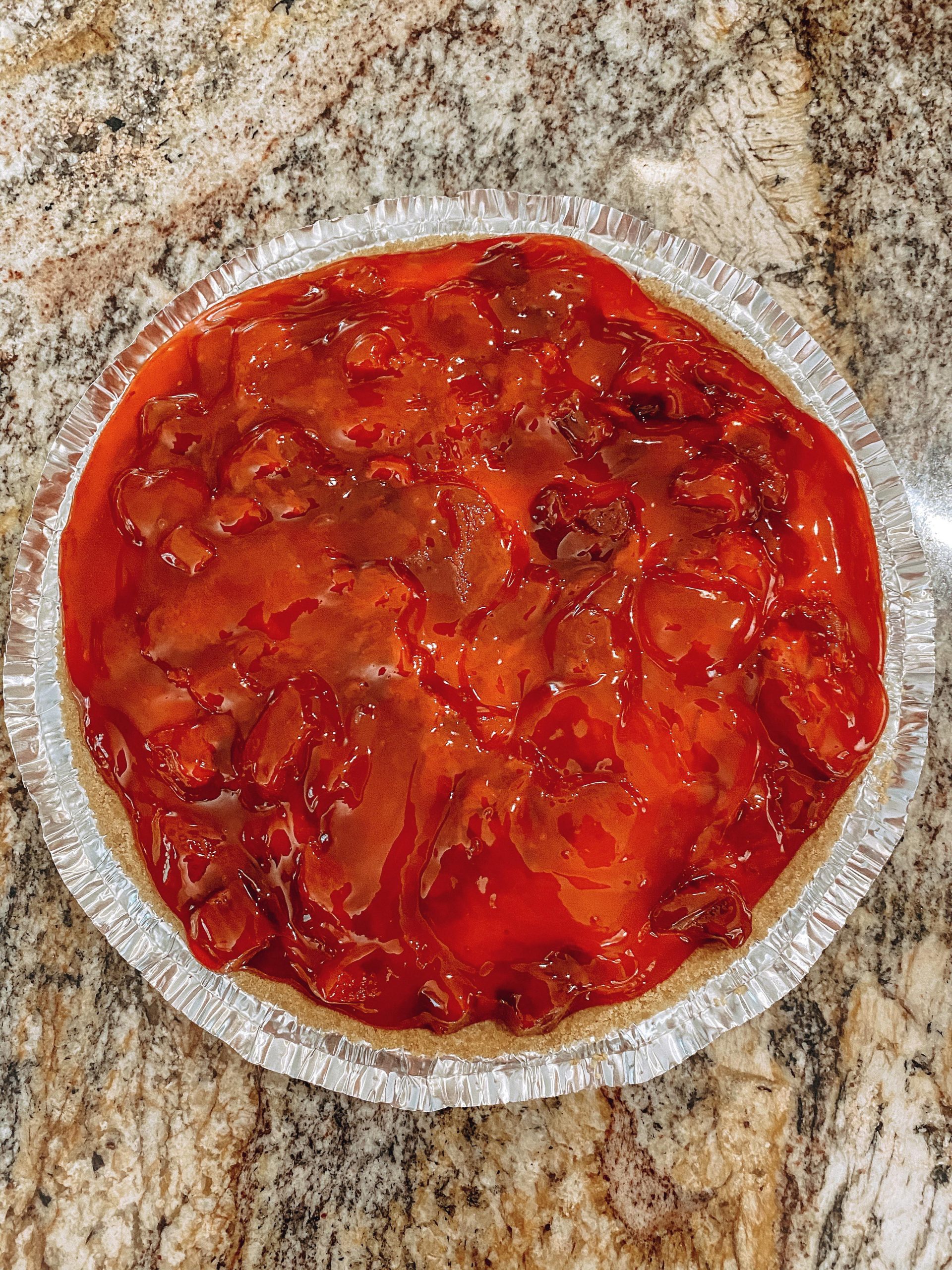 And that's it! So easy right?! And how delicious is this! The lemon makes it soo good.
Enjoy! And remember, tag me if you make it as I would love to see your creations 🙂
-Jenna xoxo