Nachos
For the month of October, we reviewed NACHOS for 'For the Gram Restaurant Reviews'! Nachos are a super fun item as it can be an appy, a snack, something you eat while watching the game, or whatever you want!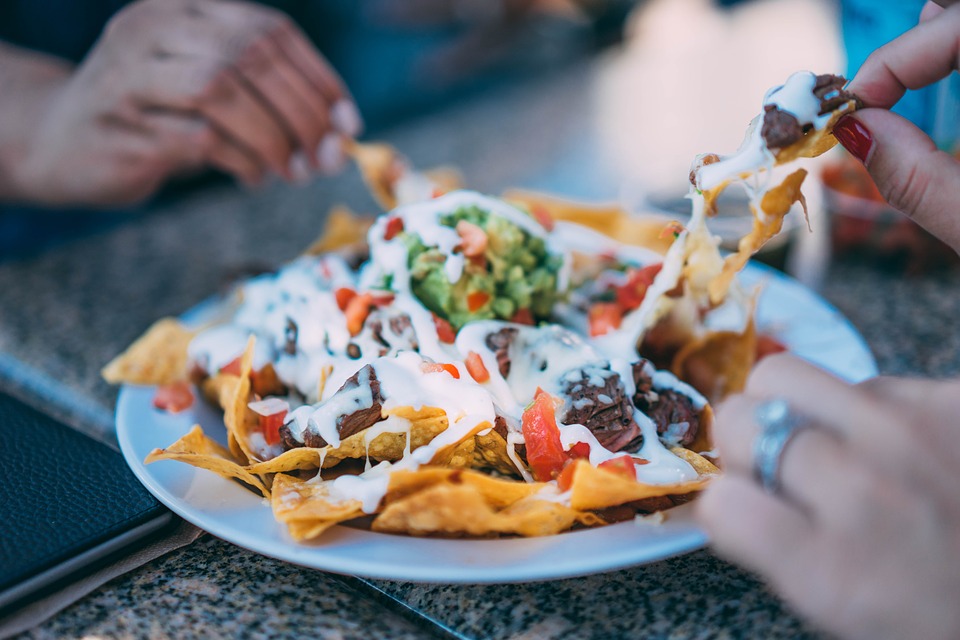 We went to three different restaurants in Kelowna. The first place we had vegan nachos, the second round we had beef nachos, and the third round, chicken! Just to keep things interesting!
Nachos can be customized and made so many different ways, there's no "one formula". But let's talk about what makes good nachos compared to bad nachos.
-toppings: the more toppings the better! Onions, jalapenos, tomatoes, pickled vegetables, you can get so creative with what you put on top of your nachos. And the sauces! Serve it with guac, salsa, sour cream, and anything else. You need something to dip into!
-the amount of cheese: you want a generous amount of perfectly melted cheese! The key is to layer the cheese so it's not just cheesy on top and then completely dry on the bottom. Nachos that are sparse isn't good, but too much cheese isn't good either.
-nooo sogginess: nothing is worse than soggy wet nachos!
---
Let's review where we went!
Renegade:
Our first stop was plant-based restaurant, Renegade! Here we had their little rascal nachos. This consisted of cultural nut rascal sriracha cheese, pico de gallo, pickled onion, spiced black beans, green onion, with house made tortilla chips. There were lots of highs with this! The pico de gallo really brightened up the dish and gave it some nice freshness. I was pleased to hear that the tortilla chips were house made as that makes all the difference. The pickled onions gave some nice flavor and I liked the touch of spicy beans as it gave some heat. Presentation wise, the nachos were served on a red tray which reminded me of lunch time in high school! But it totally fits Renegade casual comfort food vibe. Despite these nachos being plant based, we still got the same fulfillness you would get from regular nachos! We enjoyed them!
---
Train Station:
Our next stop was Train Station where we ordered their TNT nachos! This consisted of ½ pound of jack & cheddar cheese, queso fresco, corn tortilla chips, pickled poblanos, red onions, radish, whiskey bbq and buttermilk ranch drizzle, cilantro, and served with salsa verde + sour cream. We added their cajun braised beef and their southwest guacamole as well. I'm not a big beef person but the beef was so flavorable!
These nachos were a home run! If we're being honest here, I actually had Train Station's nachos about 5 years ago and didn't really care for them so I wasn't sure what to expect today. Turn's out they've upgraded them! Their unique toppings such as radish, ranch, and bbq sauce made us hesitant, but it all worked and were super delicious! It's also a huge serving so it makes a great shareable for watching the game. We loved them! Definitely would categorize these as the nachos to have "with the boys before the game".
---
Rustic Reel:
Our last stop for nachos was at Rustic Reel! I can't describe all the ingredients as their menu isn't available online right now but I'll break it down for you from what I remember. They serve multi color chips, beans, cilantro, chives, peppers, olives, and two house made sauces! Their nacho cheese is also house made. They also offer the option to make their nachos vegan if you prefer as well.
Presentation wise, it was my favorite out of the three! It was served in this big cast iron pan and the multi color chips makes it very instagrammable. Again, it was a massive serving so great for sharing! There was a bit of a sweet component from the beans, but it balances out with the other flavors. It was definitely your classic nachos with a spin! Super good!
---
That concludes the nachos tastings!!
I'm so happy to share that Kelowna serves such great nachos. You can go to any pub to get nachos but all these nachos offer a unique twist! I highly recommend trying them all if you're looking to try something different!
We'll see you next month in November for our next round of reviews 🙂
-Jenna xoxo