Sushi
For the month of August, we toured around Kelowna tasting one of my ALL-TIME favorite foods. Seriously, I don't get sick of this food.
Sushi!!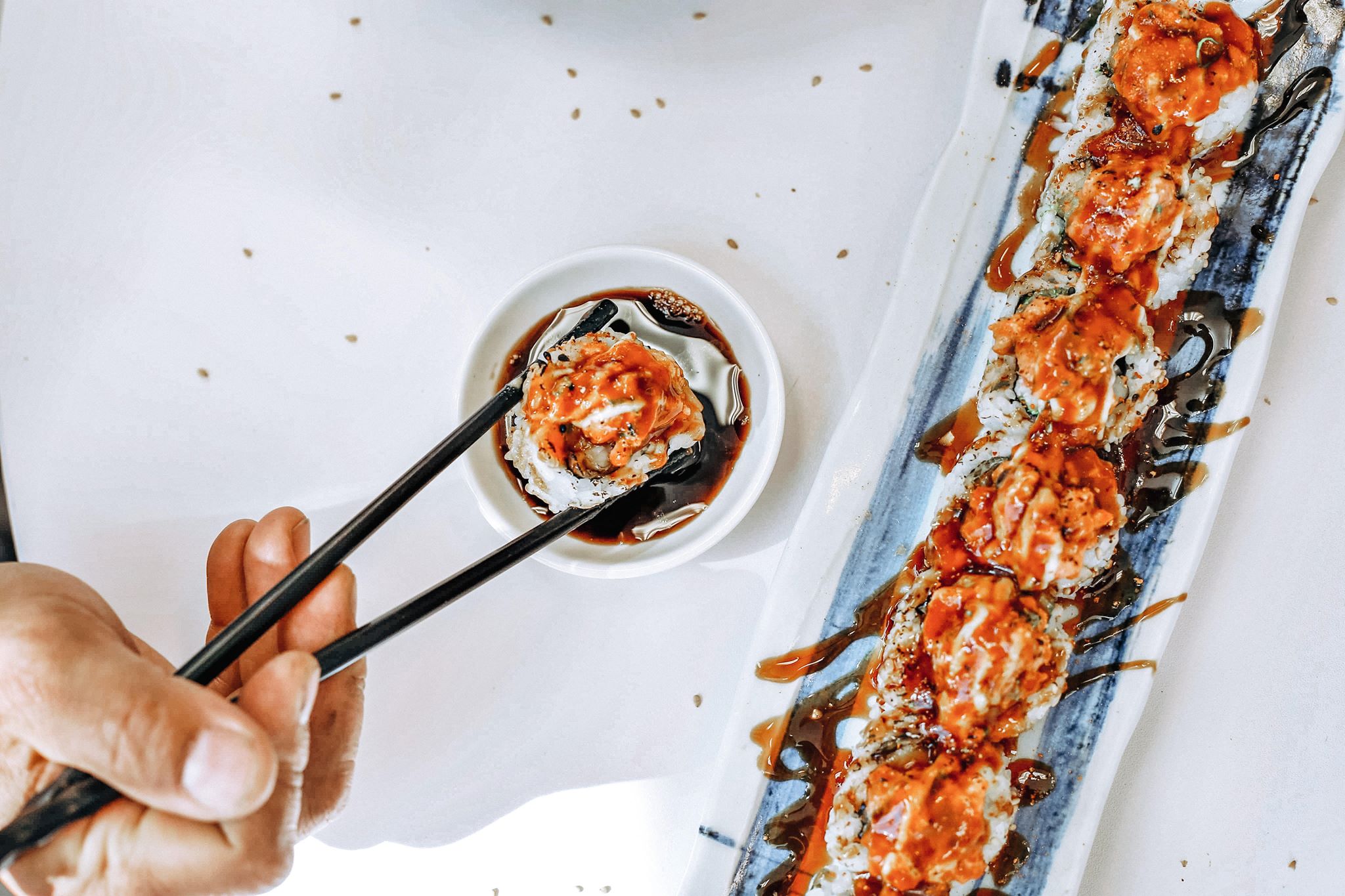 A lot of you have been suggesting I review sushi for a while and trust me, I had been wanting to do so! We are finally here!!!
As you know, there are a lot of different sushi rolls out there so I wasn't sure how to pick just ONE to review for this tour. So how we conducted the tasting was by Denai Johnson(my guest judge for this month) and myself sampling two rolls each: one seafood roll and one veggie roll. That way we could try the best of both worlds! I thought that made the most sense, and even better, I would have the luxury of tasting more than one roll 😉
Before we review where we went, Denai and I talked about what we thought separated good sushi from bad sushi. Just to give a bit of a background, I've been eating sushi since I was a kid so I've tasted a lot of sushi! Denai is originally from the lower mainland which we all know is the motherland of sushi restaurants so she is an expert sushi eater as well! WE GOT A TOUGH CROWD TO PLEASE LOL. jk.
So let's get to it. What makes good sushi?
-sushi that stays together – I can't stand when sushi falls apart. It's so important that the rice sticks together and the roll itself is tight so when you're holding it between chopsticks, it doesn't fall into the soy sauce and splash everywhere.
-quality of ingredients – fresh fish is so important but so is fresh veggies! I don't particularly like farmed salmon as it tastes kind of chunky and weird to me. Wild fish is where it's at!
-freshness – Nothing is worse than fish that tastes fishy, or veggies that taste old. You want that fresh, tight sush!!!
Let's look back to where we went!
---
Dozo:
If you guys follow me on Instagram you know how much I love Dozo. They are a little Japanese restaurant in Glenmore that I have been going to since they opened. I chose them as the first place for this tour because I love going there so much. Let's talk about their sushi!
Their sushi always tastes so fresh and the rolls are tightly packed! They don't fall apart and I always can expect consistency. Their staff are also literally the kindest people that they make you feel at home there. I always enjoy going to Dozo and can't say enough good things about it. It's not too fancy, it's casual, and always a positive experience.
Bluetail:
A really popular spot in Kelowna that you've probably heard of is Bluetail. They have two locations in Kelowna, one on Spall and one on Commerce. We went to Commerce for this tour and got take-out so we could social distance in the park (since covid numbers had gone up during this time in Kelowna).
Bluetail's restaurant is definitely more upscale! Their restaurant decor is very modern and clean. They also have beautiful presentation and have a lot to offer on their menu, besides sushi.
Bluetail is also a little more on the expensive side but they do offer fancier rolls. Another pro is that they are opened pretty late (most sushi restaurants in Kelowna tend to close early). So if you have a late night sushi craving, this place will be open!
Kaya:
Our last stop was at a newer establishment called Kaya, located right by the airport! They had been on my radar for a while as I had heard good things about them so I was excited to try them…and was I not disappointed! I loved the whole aesthetic of the restaurant and not to mention, a super kind owner! Their menu is also massive!
Presentation wise, their food looks super high quality and the portions are big. They also have some great house cocktails to choose from! One of the comments I had made to Denai when we were there was that I could see myself spending an evening there. A lot of Japanese restaurants are more fast food so you're in and out. With Kaya, I could picture myself ordering drinks, appies, mains, and being there for a whole evening.
Overall, I loved the environment and enjoyed the vast options of sushi to choose from. I will definitely be coming back!
---
This concludes the sushi tour!
Sushi is one of my top two favorite foods so I was DELIGHTED to showcase some of the awesome sushi restaurants in Kelowna to you guys. If you go to any of these three restaurants, I would love to hear your experiences. Dozo will also be a fav of mine, but now after checking out Kaya, I might just have another go-to.
See you in September for our next StuffwithSvet Food tour! Until then!!
-Jenna xoxo