Jenna's Local Christmas Gift Guide 2020
Every year, I create a Christmas Gift Guide with a different theme! Last year's gift guide was a stocking stuffer guide – so fun! This year's gift guide, I'm rounding up local/small shop gift ideas to encourage my readers to buy and shop locally since everybody was hit hard from Covid this year!
Why shop small this holiday season?
First off, you're helping fuel your local economy. The actual gifts you'll be giving will be of high quality and thoughtful and you will feel so amazing supporting people in your own community. $50 means SO much to a small business while $50 is nothing to a billion dollar company. I know every time somebody signs up for one of my food tours, I do a little happy dance in my kitchen 🙂 The reason my gift guide is out a little earlier this year (normally I publish it in December) is because I wanted to make sure my readers have enough time to plan so that they CAN support small and local businesses. But if it's not accessible to you, you can help them in others ways by either giving them a follow on social media or saving/liking/sharing things that you love on their feed!
All the businesses listed below are from Kelowna except for two which are based out of Peachland and Vancouver, so local to BC! I can say first hand that you'll love the products as I have tried/own almost all of them or if not, I'm familiar with and are on my wish list.
#shopsmall and spread the word!! These businesses need us! And make sure you read to the bottom as there is a surprise at the end! Check out my picks!
---
This is the most brilliant gift idea – a wine and flower subscription club! Who doesn't love local wine and flowers?! Hello Sweet Bloom is a membership that delivers local BC grown bouquets + wine right to your door every month! This is the perfect gift idea to brighten up someone's day. I actually got a delivery myself back in the Fall and it was the best day ever coming home to such a beautiful package. The flowers were so fresh and I loved receiving quality wine from a local winery.
So how does this club work?! You join and get a bundle every month or can do a one time purchase. Orders are accepted between the 1st and 14th of every month. For December, the first delivery date is December 12th! You can customize what you get in your bundle by choosing how many bottles and what type of wine you would like. It's available in Kelowna, West Kelowna, and Lake Country. They'll be offering the cutest holiday gift bundles as of December 1st so make sure you check them out on Instagram or their website!
---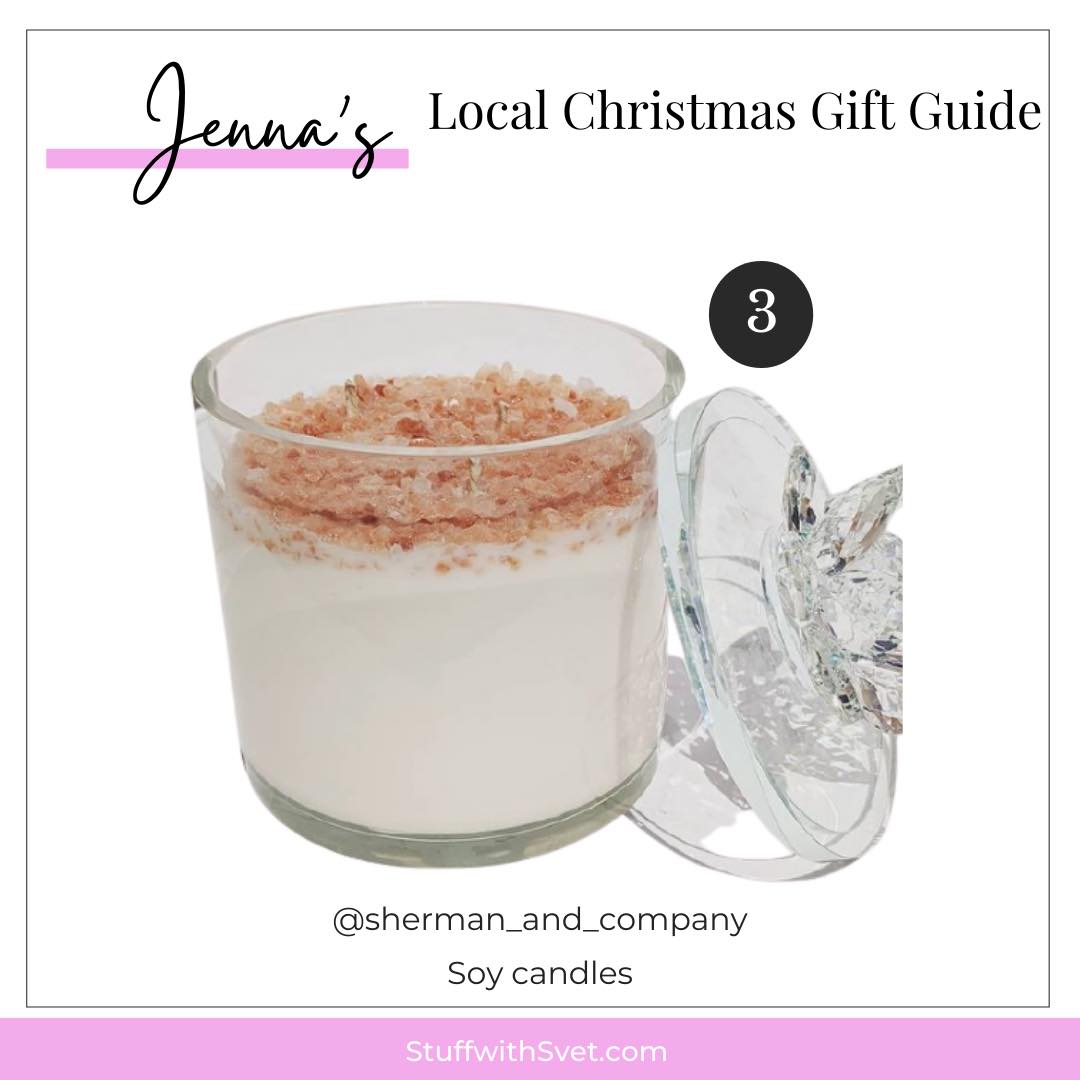 Another solid gift idea is a candle! But not just any candles, soy candles! I personally don't buy any candles unless they are made of soy. If you follow me on IG, you'll see I always have candles lit in my apartment 🙂 I love the ones from Sherman and Co, a small batch candle company based in Peachland, BC. The best part? They use recycled and reusable glass jars from thrift stores throughout the Okanagan. Such a great sustainable gift!
---
A great sentimental gift idea is ordering from Block Prints Canada! I don't know about you, but I'm always so stuck on what to get my family members for Christmas, especially my parents. Parents always have everything lol! So what do parents and family members love more than anything? Photos! How about printing your favorite photos directly onto beautiful handcrafted and naturally sustainable wooden products?! What a modern, unique way to display your favorite images.
So how does it work?!
Choose from one of Block Prints signature handmade basswood blocks or other high quality wood products. Then select your favorite photo from your phone, computer, camera, etc. They also give the option of having a personalized message written on it if you wish. The final product will then be delivered in gift packaging, ready to enjoy! You would've seen back in November on my IG when I talked about two blocks I got developed. I did a family photo and a photo of my nephew which both turned out awesome!! The products are made right here in Kelowna, BC but they do ship to the US and internationally! Check out their website and Instagram to get your photos developed now!
---
4. Jenna's Downtown Foodie Tour
Okay OF COURSE I had to add this to the list! Actually you guys are the ones that gave me the idea. I had followers reach out and ask if they can purchase gift certificates for food tours that people can book when they want to – hell ya! The food tours are finished for 2020 but they will be starting back up again in 2021! If you love good food + drink you will LOVE this experience. Everybody that has come along has such a blast and loves all the yummy eats! You can check out the reviews right here on my Facebook Page. If you're looking for a gift certificate, email me at stuffwithsvet@gmail.com and I will hook you up!
---
Who doesn't need a gorgeous throw blanket or towel? Blankets and towels have so many uses and people can always use new ones. Bodie + Co is a company based out of Vancouver that offers high quality turkish towels + blankets. I got one of their blankets and it is beautiful and such high quality and soft. Check them out!
---
Want to get your mom or girlfriend a cute top or accessory? Check out one of my favorite local stores, Honest! I get so much of my clothing from there. They are located in Orchard Park Mall but you can order online or even buy a gift certificate! They are locally owned and carry such great brands!
---
7. Local Restaurant Gift Cards
One of my favorite things to gift people are restaurant gift cards. This is great gift to get your couple friends or the people in your life that are super busy! A restaurant gift card is the perfect gift because it can give them a chance to slow down from their busy lifestyles and have a great experience at a restaurant where dinner is taken care of! And who doesn't love free food?! But not just food from anywhere, food from GOOD local restaurants! Let me share some of my favorites:
Bread Co not only serves gourmet sandwiches, soups, and salads, but also a fantastic breakfast! They offer all the classics such as eggs benny, breakfast sandwiches, and pancakes, but also more gourmet items such as french toast, huevo rancheros, and frittatas! Most know Bread Co for their fine baked goods and artisan breads, but they have revamped over the years and now offer so much more! They also serve freshly squeezed orange juice that is to DIE for – eight oranges in one glass!
So where are they located? Bread Co offers two locations: Pandosy in the Mission and their main location on Bernard in Downtown Kelowna. Their Bernard location has been open for almost 15 years! They were featured on my 'For the Gram Restaurants Reviews – Avocado Toast' last January. If you're looking for fresh bread, an incredible selection of pastries, or a yummy meal, be sure to check this little eatery out! The staff are cheery and welcoming!
A great lunch/dinner option that is always a winner is sushi! Sushi is one of my all time favorite foods so I was pleased to discover a Japanese restaurant called Kaya Sushi this last year! They are newer to Kelowna and are located in the Airport District close to UBCO! Their menu is massive and consists of classic Japanese flavors but with a modern flare! They won me over with their beautiful presentation i.e. their caterpillar roll! I order it every time 🙂 They also offer vegetarian and gluten free options to fit any dietary needs! Not just known for their sushi though, Kaya has an extensive cocktail menu as well. They offer a variety of different sake as well as some impressive house signatures. I have tried the lycheetini and peach frizz!
I obviously love their food but what I really enjoy about Kaya is the ambience and the staff. If you don't feel like going out however, they're also a great option for take-out! They were featured on my 'For the Gram Restaurants Reviews – Sushi' back in September. Check them out for a fantastic Japanese experience 🙂
People always want to know where to find good pasta! Pasta is the ultimate comfort food and now that we're heading into the winter months, I know I'm craving pasta more than ever! The ultimate date night dinner is Fixx Cafe! This cozy little gem is located in the Lower Mission of Kelowna. They have a quaint patio in the summer time and are super cozy and romantic in the winter. They have a variety of pastas to choose from as well as a great wine list! If you come here, you must get the wine, the bread, the pasta, and the dinner…all the works!
Despite it being a smaller space, they are super attentive to the covid protocols with big booths and dividers! They really care about their guests! One of my favorite dishes is the West Coast Scallops. It's so creamy and packed with flavor from the bacon and peas to the white wine cream sauce. It's a must try! They also feature their pasta of the day where the chef comes up with new unique dishes – how fun! You'll probably remember as it was quite recent, The Fixx was featured on my 'For the Gram Restaurants Reviews – Pasta' in October. Bring your SO and check this place out!
---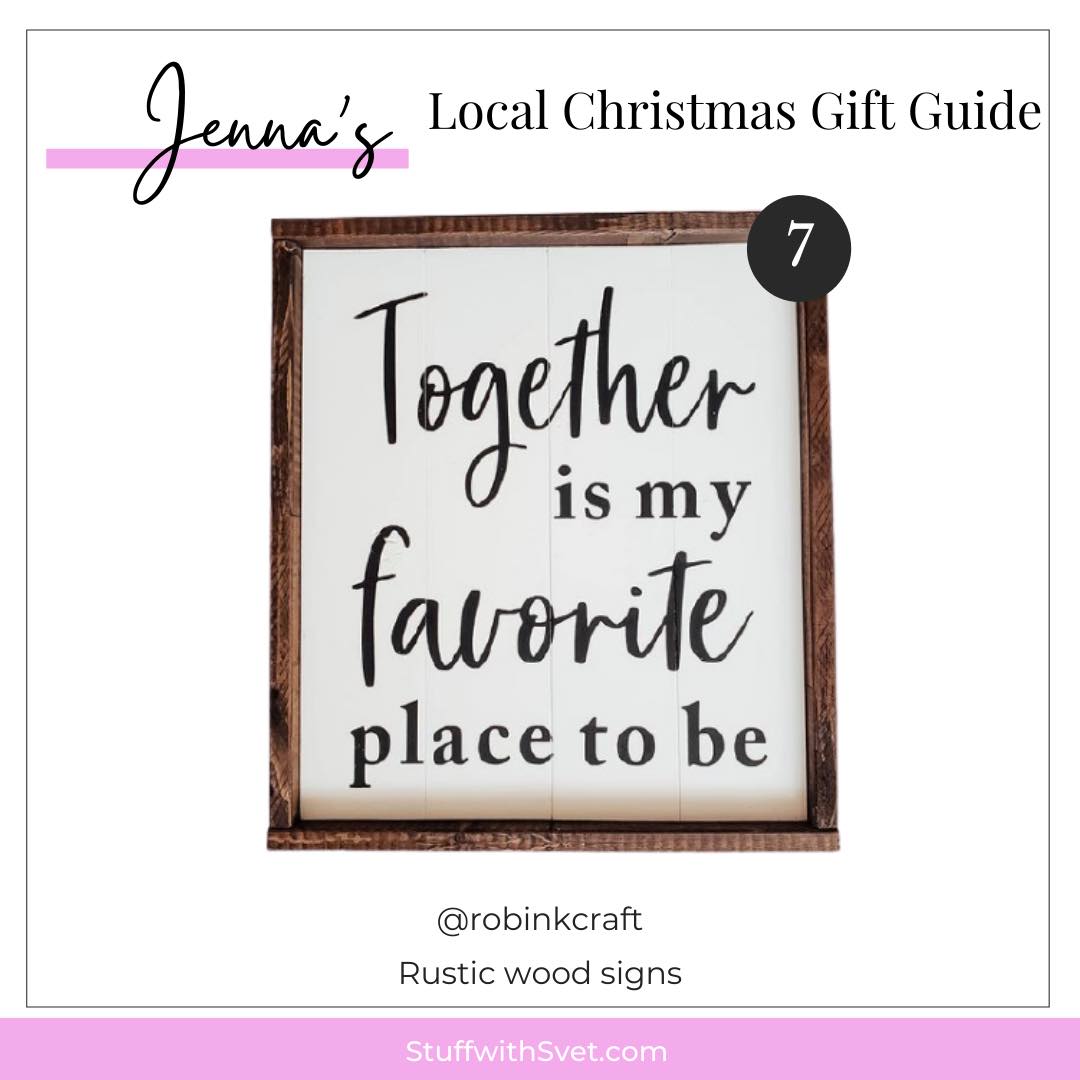 Another great idea is purchasing one of Robin's rustic wooden signs! I haven't gotten one yet myself but she is definitely on my wish list! Check our her Instagram! They are soo cool and are a unique, creative idea to gift somebody.
---
9. Photography Gift Cards
This is a great idea to make somebody feel good, feel re-connected with their loves one, or whatever they want it to be! There are SO many great photographers in Kelowna but these are some of my favorites and recent ones I've worked with. Purchase a gift card from a photographer and gift it to somebody! I know the photographers appreciate it and the people will love the high quality candid photos they receive 🙂
Check out:
Or head to my Instagram page and look to see who I've tagged in my photos!
---
Caitlin of Kozi Knits makes the cutest knit wear and designs! Not only does she make toques and mittens…she knits backpacks, tops, slippers, and more! She has been on my radar for a while and I seriously need to order one of her backpacks! Check her out!
---
There you have it! That completes my Christmas Gift Guide for 2020! Now you're probably wanting to know what my surprise is…..
Some of the companies I have mentioned above I am partnering with so we can giveaway some of their products/experiences! If you can afford to shop small this year, great! If not, I wanted you to have a chance to be able to win some of these products to treat yourself OR to gift somebody, whatever you want! SO YES I REPEAT, there will be 5 giveaways put on by yours truly PLUS a bonus sixth giveaway coming VERY SOON! The days are December 7th-13th – it'll be a whole giveaway week wahhooo!!
Stayed tuned and follow along on IG for announcements!
And remember, if you can this Christmas…
buy from local
buy handmade
buy from self employed
-Jenna xoxo