7 activities to do in the Okanagan in the winter
I don't know about you, but I am a big summer person. Beaches, hiking, you name it! Once winter comes, I always struggle with finding activities to do…especially outdoors since it's cold!
Have no fear! You don't have to be cooped up inside anymore. Here are 8 activities to do in the Okanagan in the winter:
Snow shoeing
A great place to go snow shoeing is Kelowna Nordic Ski + Snow Shoe Club. Snow shoe rentals are super cheap, I got mine for $15 for a day from MEC. Anybody can do it as it's a fairly easy activity: you get fresh air, exercise, and can visit with friends. Pack a lunch and snow shoe to a cabin for the day!
2. Skiing/snowboarding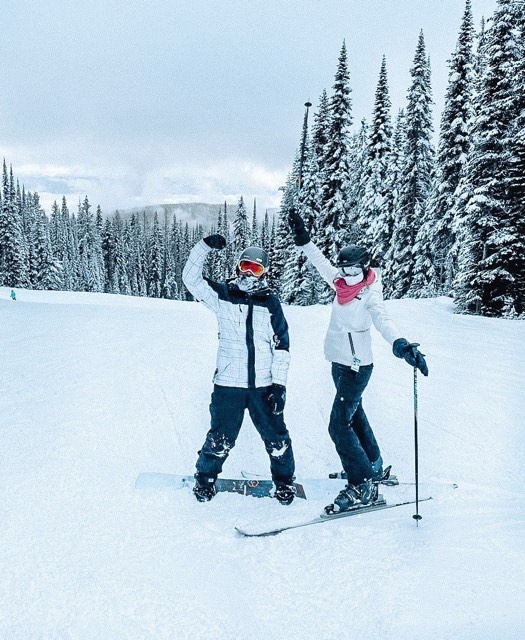 Silver Star is 74km away and Big White is 55km away from Kelowna. Both are great resorts to do both! Silver Star is a smaller more intimate resort while Big White offers more activities. Both are great!
3. Tubing
If you're not into skiing or snowboarding, both Silver Star and Big White have tubing areas that are super fun to ride with a group of friends! It is very thrilling and exciting!
4. Skating
Grab your skates and head downtown to Stuart Park! There's a fire too if you want to take a break and warm up.
5. Cross country skiing
I picked this up quite easily but it might take a bit of time if you're a beginner! Once you got the hang of it though, it's such great exercise! Rentals are also fairly inexpensive.
6. Tobogganing
This is great to do with kids! Grab a crazy carpet or toboggan and hit the hill in your local neighbourhood. Some of my favorite areas to toboggan in Kelowna are Kettle Valley and Dilworth Mountain.
7. Okanagan Wine and Dine
If being outside isn't your thing, check out Dine Around BC! Every year, several restaurants will offer unique food and wine three course meals at their restaurants. The duration is typically a few weeks in January + February.  I went to a few this last month and they were all delicious and unique in their own way! Check out Okanagan Wine and Dine out on Facebook –> here.
Pick any of these activities and you'll have a blast! Enjoy!
-Jenna xoxo