The most instagrammable places in Kelowna
Whenever travelling to a new city, we all want to know where the coolest spots and the best views are. If you're a tourist or even a local and want to know where Kelowna's most Instagrammable spots are, read below! These all make great photo ops – and many of them have beautiful spots inside and outside!
---
1. Mission Creek Park
Beautiful all year round but especially gorgeous in the fall for photos!
2. Father Pandosy Mission
Historic log homes and field located in the Lower Mission.
3. Sparkling Hills
This one is technically between Kelowna and Vernon but is not to be missed! Explore the hiking trails around for nature shots or stay at the resort for amazing views.
4. Any winery
Quails Gate, Cedar Creek, and Summerhill are some of my favorites. Many wineries will let you explore the grounds and take photos in the wine shop and vineyards.
5. Kasugai Gardens
This hidden Japanese garden is tucked behind City Hall with a massive pond, pathway, plants and trees.
6. Knox Mountain
Easy access and gorgeous all year round.
7. Karat Chocolate
Located downtown, this adorable cafe has a black and white modern vibe for photos.
8. Alley by Earls – Laneway Canteen
Alleys are always neat spots to shoot in and this particular one has a cool wall to stand against.
9. Bertram Park
Stunning year round park on the lake with large greenspace, trees and water views.
10. Mount Baldy
Three trails to get 360 views of Kelowna.
11. McMillian Farms in the Fall
A classic for any fall photos! Make sure to bring your pumpkin spice latte and oversized scarf 😉
12. Okanagan Lavender & Herb Farm in the Summer
Gorgeous shots for all-purple vibes.
13. Dilworth Park
One of my favourite spots to shoot at, especially in the spring when the Kelowna flower is out!
14. Pink wall at 2061 Harvey Ave, Baby & Me store
This fun wall is perfect for girly shots or branded photos.
15. Salt & Brick
Flower wall print and neon sign!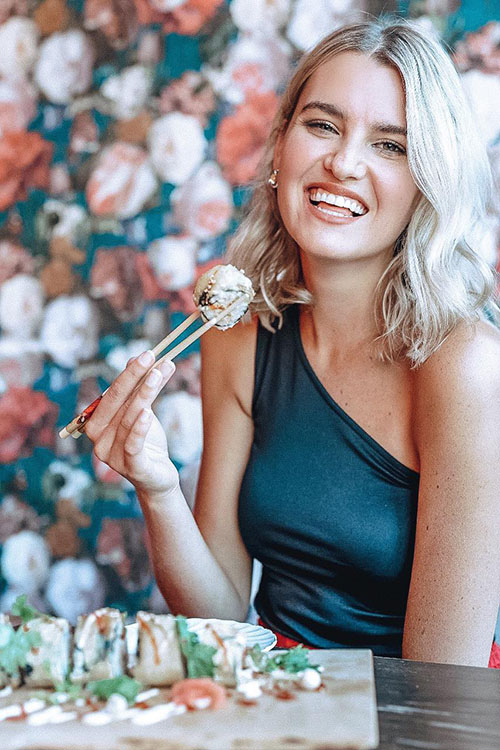 16. Bright Jenny coffee shop
Fun modern vibe with indoor, outdoor and patio area for great shots.
17. BNA
Rustic wood and moody interior and fun patio for outdoor photos. Head to the upstairs lounge to get cute photos at the mini-trailer bar!
18. Micro
This 900 square foot bar has really awesome decor that is great for a photo op.
19. Hotel Eldorado
Get some great lake shots on the dock at the marina and the surrounding grounds.
20. Ricco Bambino
This little winery in Downtown Kelowna has such an instagram worthy layout.
21. Orchard Room
A vegan restaurant with fun, 50s Cuban decor inside. The wallpaper and lounge area make awesome photos!
---
And there you have it! The most Instagrammable spots in Kelowna! Am I missing any?!
-Jenna xoxo