The Perfect Winter Getaway to Silver Star Resort
Everyone knows that the Okanagan is a beautiful place in the summertime with its beaches, wineries, and fruit orchards. However, what they might not know is that it's just as beautiful in the wintertime.
Silver Star is an amazing ski resort located an hour away from Kelowna. If you followed along my Instagram Stories this past weekend, you would've seen the beautiful ski runs, restaurants, and lodge that we stayed at. I received SO many questions about what we did so let's dive in!
---
Accommodations:
We checked in at Snowbird Lodge and boy, was our suite fit for a king and queen! The room was huuuge which entailed a king sized bed, kitchen, and a sun deck with our own private HOT TUB. And, it was located right next to the ski hill so we could literally throw on our skis and rip out whenever we wanted! It was also a two minute walk to the main village so we had easy access to anything we possibly needed. If you're looking for a great place to stay, I would highly recommend residing at the Snowbird Lodge.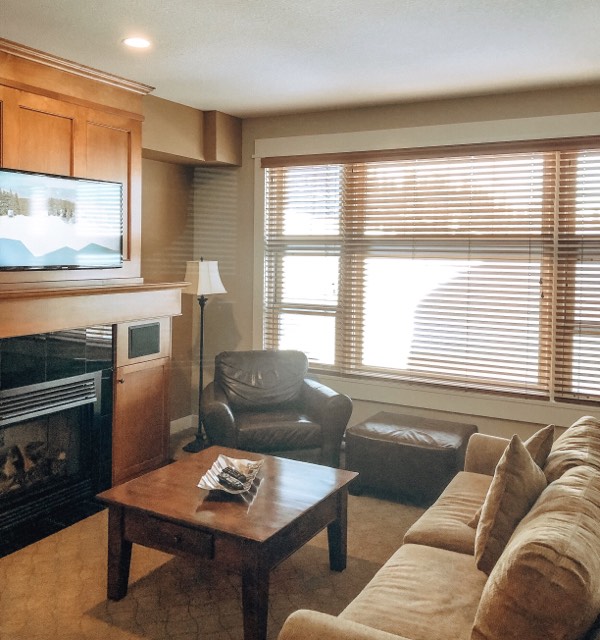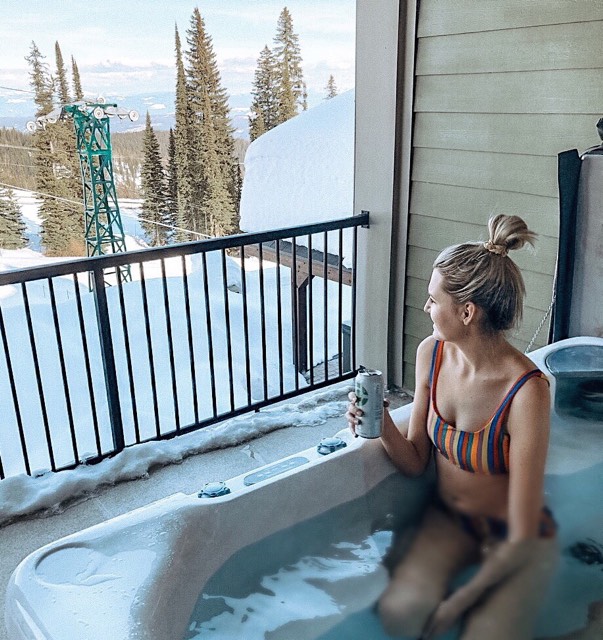 Dining experience:
Our dinner on Saturday night was one of my favorite parts of the trip. We had a dinner reservation at the Den Bar and Bistro which included a fabulous table (with a view of the ski hill), live music, great food and drink and phenomenal service. We were served by Samatha, who played a significant role in making our dining experience so spectacular. Normally I'm not a fan of sticky toffee pudding, but theirs was INCREDIBLE. Other great eateries we checked out were Long John's Pub, Red Antler, and Bugaboos Bakery Cafe.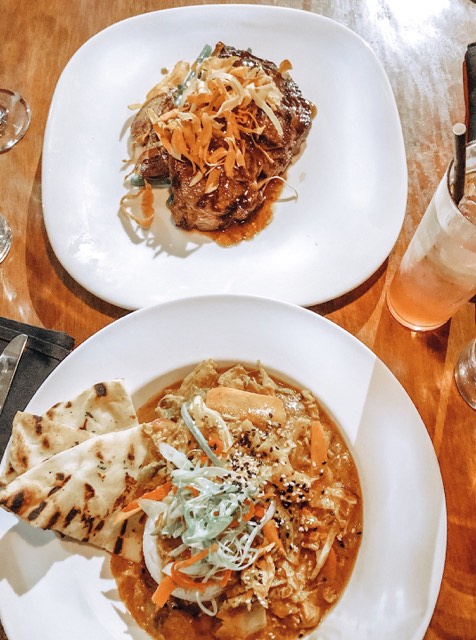 Skiing:
We obviously spent the majority of the weekend on the hills skiing! Silver Star boasts 132 runs being the 3rd largest ski area in BC. We lucked out with a blue bird weekend – it was so mild that we barely had to wear any layers under our ski jackets.
Don't own ski gear? Have no fear as neither did my boyfriend. Silver Star provides a great selection of any rental equipment you may need.
This weekend getaway was honestly just what my boyfriend and I needed, it was so nice to get outdoors! It was also so convenient that the resort is super close to where we live. I have been spending all my spare time blogging with my nose behind my laptop so to get some physical activity in felt incredibly rejuvenating. I can't wait to go back next time!
If you're looking to head up, Silverstar is hosting their spring festival featuring their awesome event on March 30th called Winterland! It's a tasting event for craft wines, ciders, beer and lots of amazing food and entertainment. Click here for tickets to this fun-filled event!
What a perfect winter stay-cation! See you next time Silver Star.
-Jenna xoxo