Vancouver Island: one of the most beautiful parts of Canada
Since COVID, travelling internationally hasn't been an option. If you wish to travel these days, you have to do it locally. How fortunate are we that we have so many beautiful destinations right here in Canada?
For the long weekend, Mason and I did a little road trip down to Vancouver Island! What an absolutely stunning place. Here in Kelowna we are surrounded by multiple lakes, but being by the ocean is a whole new ball game. Let me share our journey with you.
---
We started our road trip by making a quick pit stop at the Chilliwack Sunflower Festival. I love flowers and the location was very instagram worthy so I begged Mason to stop and check it out with me. The last available slot was 6pm so we rushed after work from Kelowna to catch it at sunset. It is stunning!! Definitely check it out next year if you haven't been.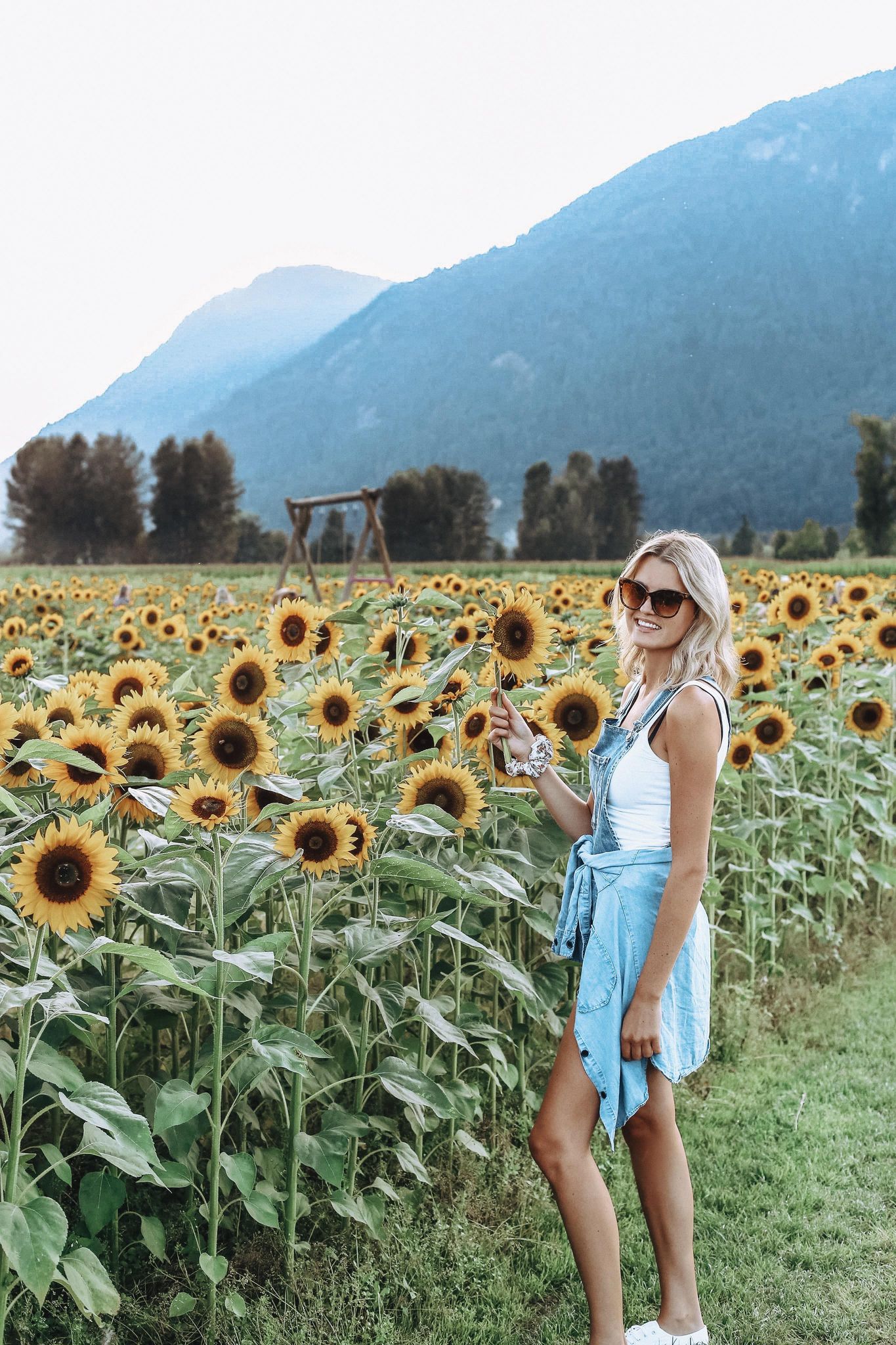 We stayed in North Vancouver for the night with family to break up the travel. We went for dinner in the Lower Lonsdale area and was it ever beautiful! All the city lights make the sky and waterfront glow. We had dinner at a place called Pier 7 where we had an ocean side view. I had the halibut and Mason had steak. They had a great happy hour and the food was good but nothing to write home about. I would have to give it another try!
We were up bright and early to catch the ferry to Nanaimo the next day. It was a beautiful sunrise so luckily we could stand outside on deck and look out on the water.
When we arrived in Nanaimo we were famished so we checked out this little dive called Alice's Restaurant. It's a family style restaurant serving comfort food. It wasn't my first choice as it's a little dated, but the service was actually great and the food was decent.
We then travelled to our air bnb located at our main destination, Sooke. You're probably wondering why we chose to reside in Sooke out of all places. We visited Sooke back in 2017 for the first time and absolutely loved it! The town of Sooke is located on the southern tip of Vancouver Island about 45 minutes from Victoria. The reason I love Sooke so much is that it offers many spectacular beaches, local eateries, and a sense of community. You'll notice Mason and I love travelling to these kinds of places (i.e. Naksup, Nelson, etc).
Back to our accommodations. Our air bnb was an ocean side townhouse off of Sooke Harbour just steps away from the marina! One of my favorite things was waking up in the morning with my coffee and staring out at the breathtaking ocean view.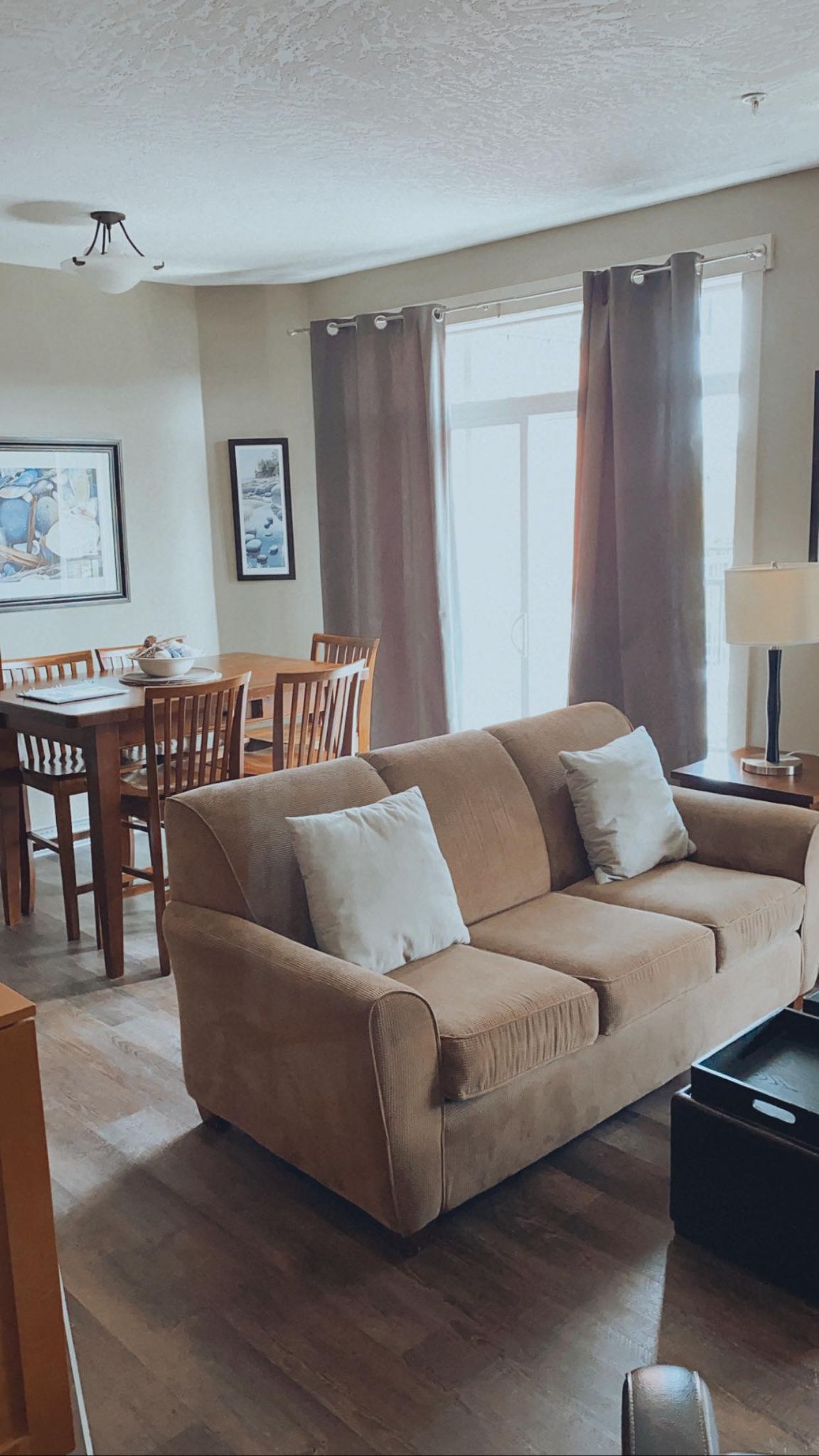 When we arrived, we were pretty pooped from travelling so we rested and freshened up before we checked out Sooke Pot Holes for the evening. Sooke Pot Holes is a Provincial Park with four parking lots. There aren't the most clear directions but we parked at lot #2 and hiked down for approximately 10 minutes which brought us down to the river. That being said, there are multiple spots you can check out besides the one we went to.
The pot holes themselves are surreal! I would definitely recommend bringing a swim suit and hanging out for a couple hours. As it was evening, we only wanted to come out to see them (no swimming) but even then, it was worth it. The holes are carved out by water over thousands of years and are all different size and depth. The water is crystal clear and there are lots of opportunities for cliff jumping.
For dinner, we checked out a local spot called Route 14. We actually ended up going here two different nights! Great service and seems like a popular place to hang out in Sooke. The style of food I would describe as more pub style food and the atmosphere is rustic and cozy. The standout for me was definitely their chicken wings. I'm not a big "wings" person but their lemon pepper wings were fantastic, as well as their hot sauce! They make a hot sauce in house that I was obsessed with. You guys know me, I like a good hot sauce.
The following day, we headed to the Prestige Oceanfront Resort. Sooke doesn't encompass a lot of chains but I absolutely love their Prestige Hotel. It is perched right on the water and offers gorgeous views of the ocean! I also found their COVID protocols excellent.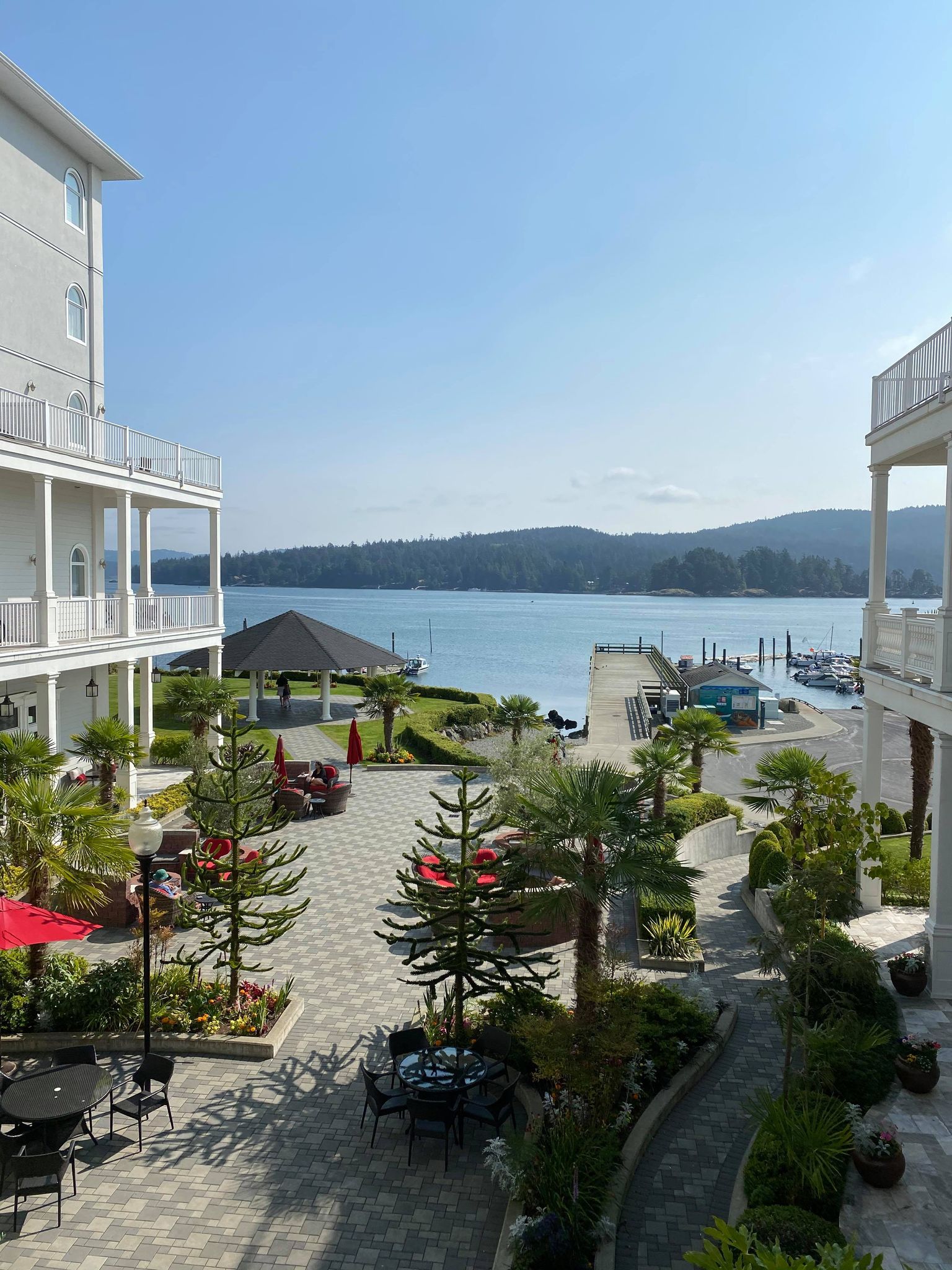 We went for breakfast to their restaurant, West Coast Grill, and enjoyed looking out at the sea lions.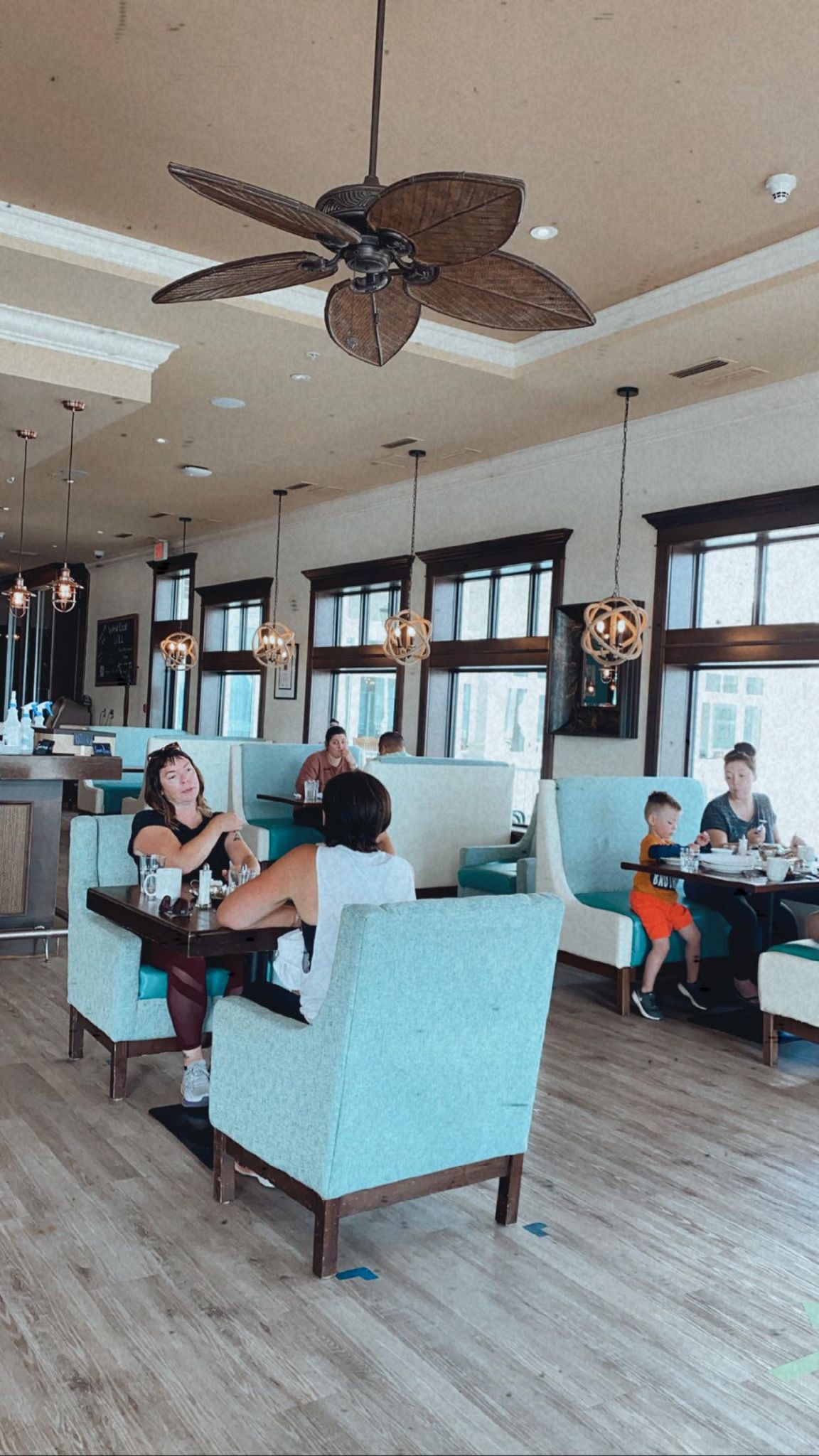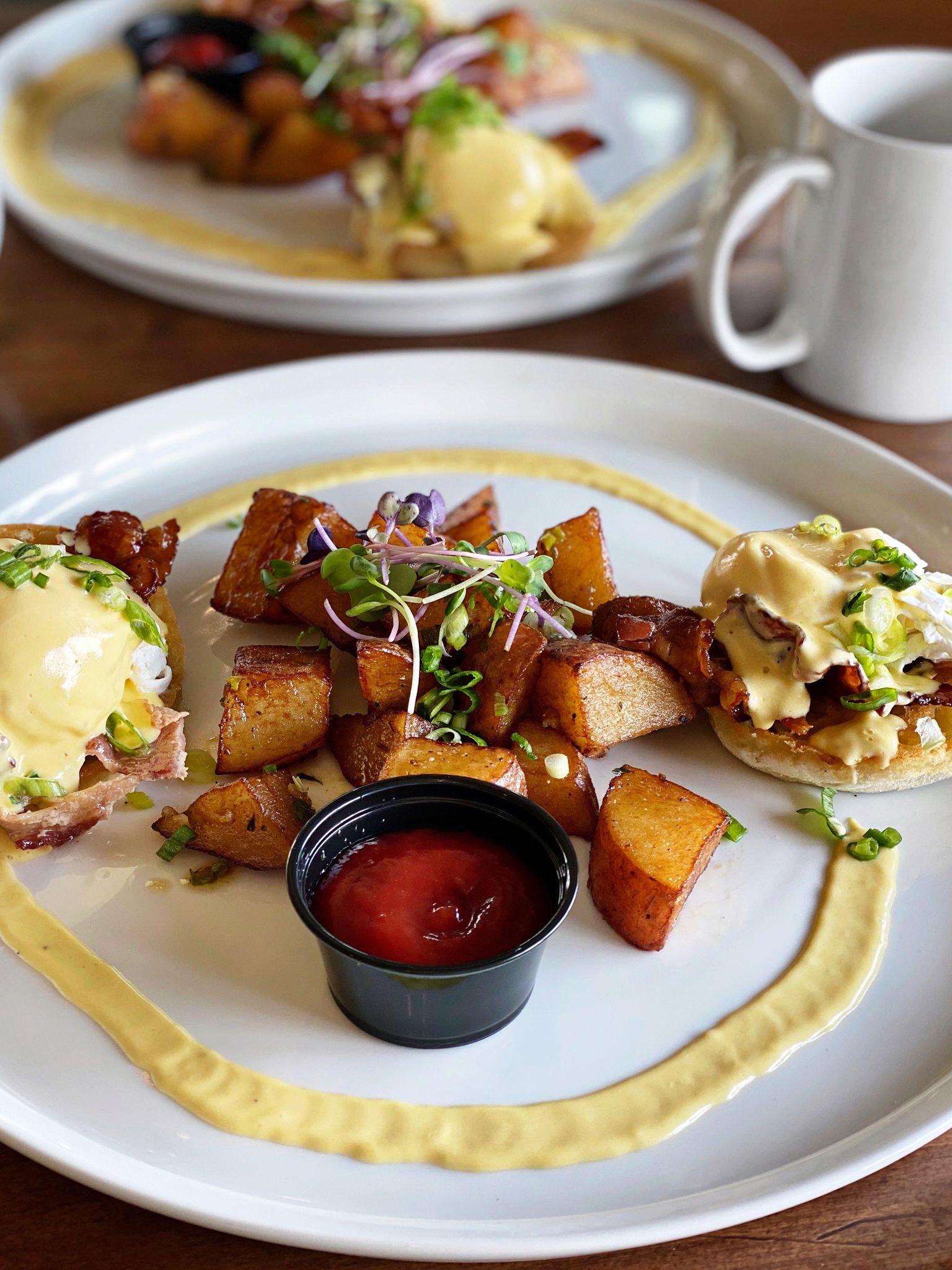 Their sea life is what is so memorable from our last visit. If you walk down to the dock below the Prestige, the sea lions come right up to you and dance around in the water. We spent a good 40 minutes watching them.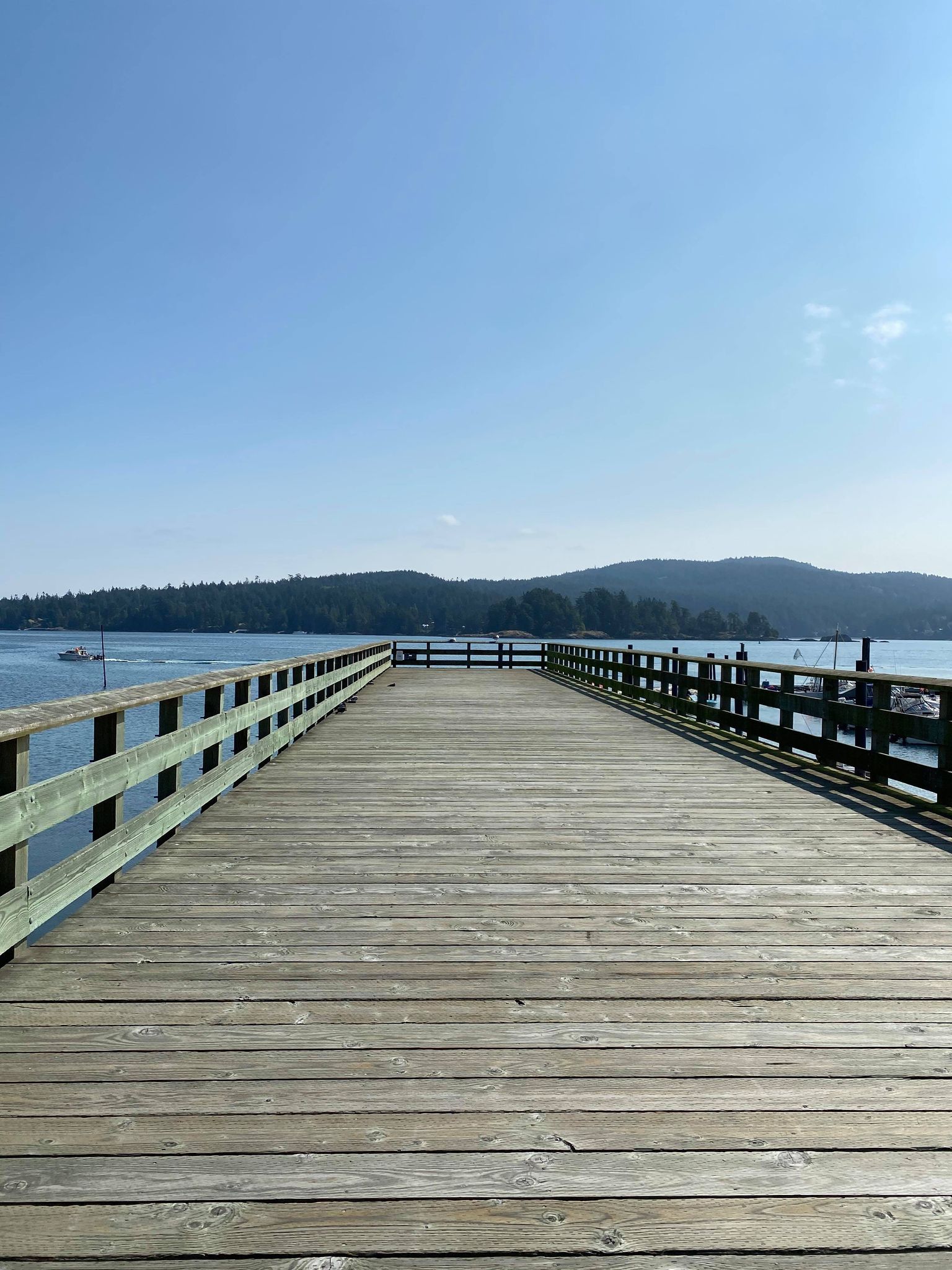 We then headed off to Victoria for the rest of the day. We participated in a downtown food tour and then walked around ourselves. We of course had to check out the famous parliament buildings as it's such an amazing piece of history! We checked out Finn's for happy hour for $5 drinks and then headed back to Sooke.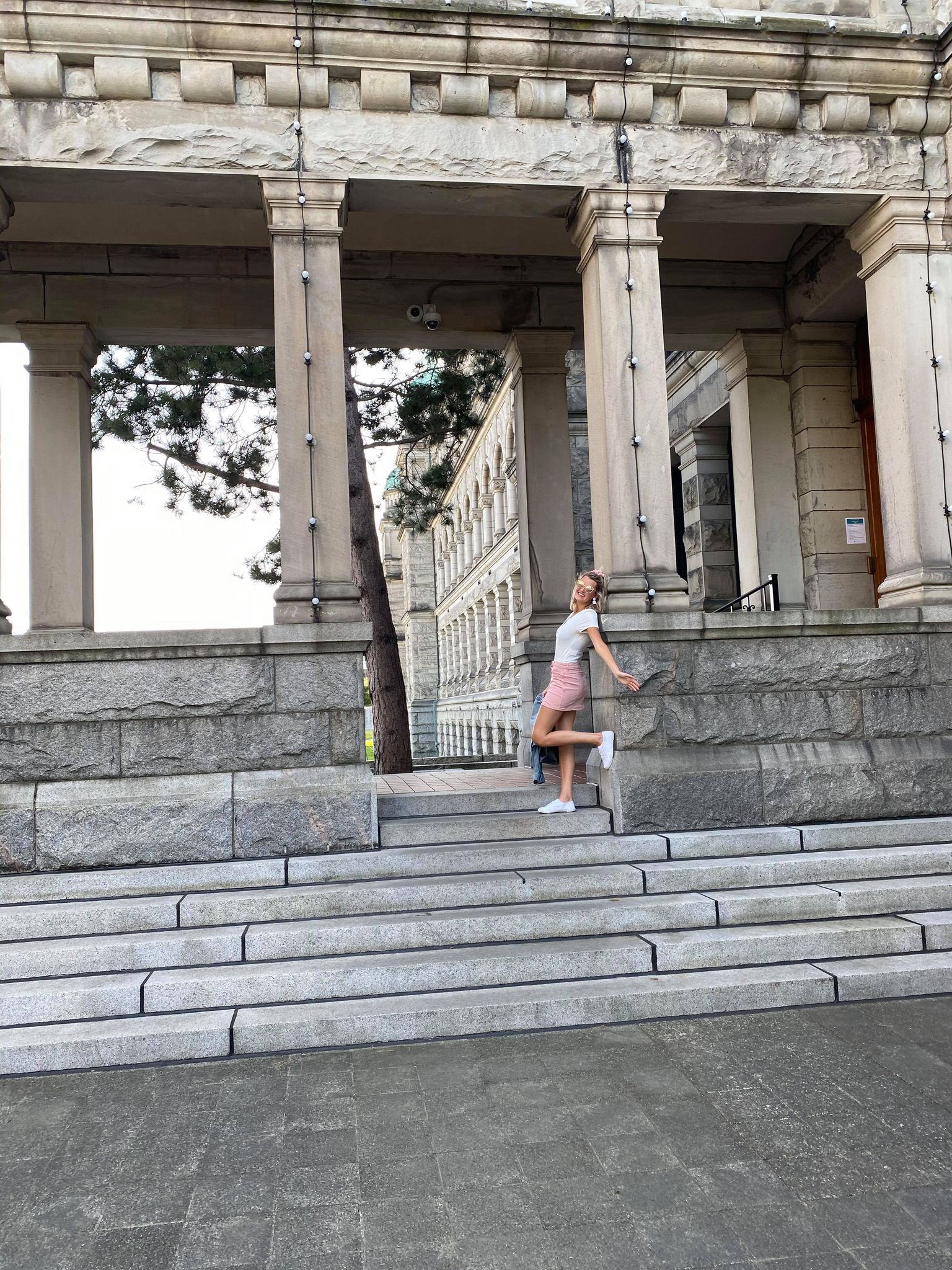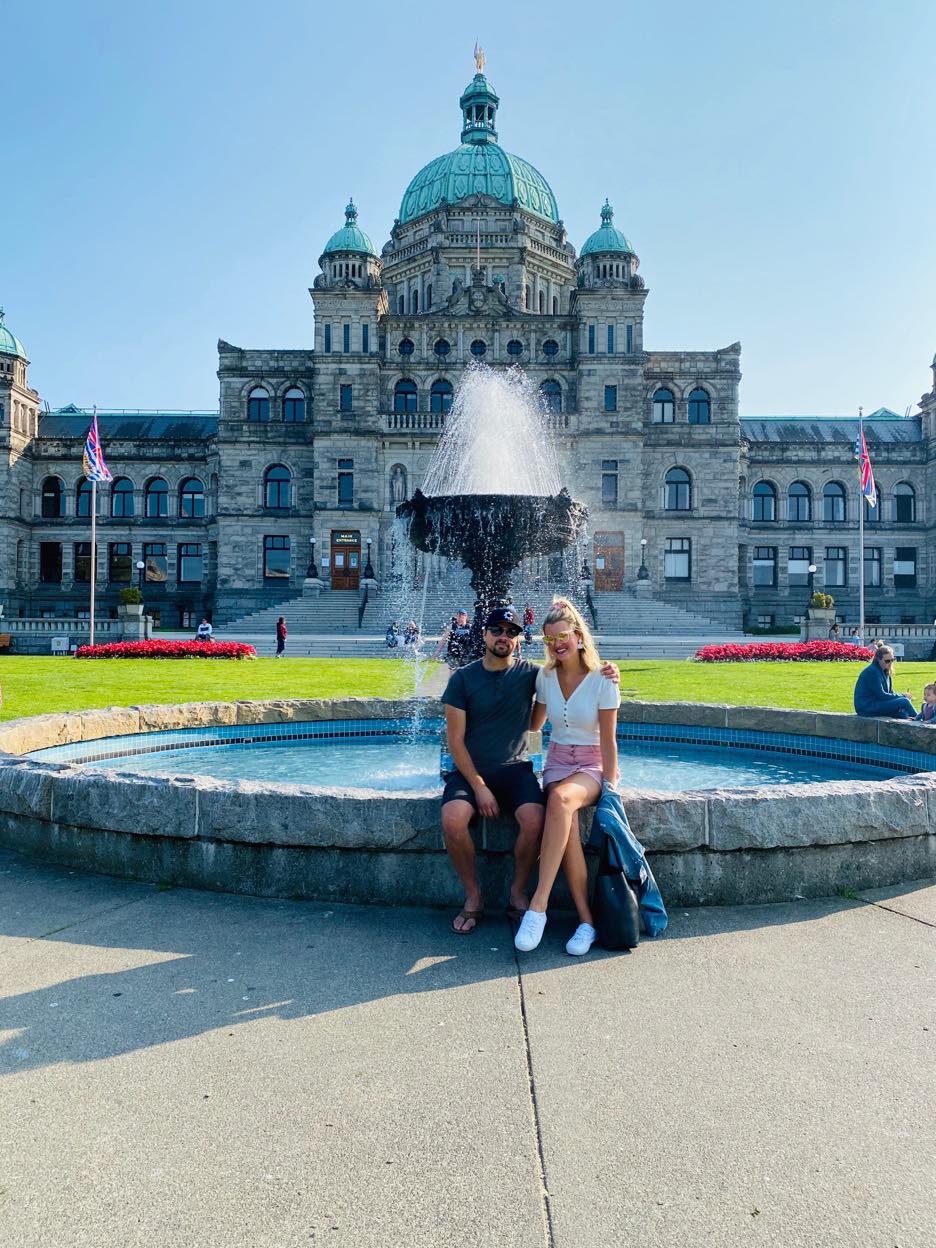 Now onto the beaches! There are several beaches around Sooke that are must go-to's.
We checked out French Beach which is so beautiful! It's so big and open and when the tide is out, there's actually a bit of sand you can walk on. French Beach is also a Provincial Park so you can camp there if you wish. It's located about 20 minutes outside of Sooke!
Ella Beach is a bit more hidden and closer to town. You can walk this beach but there are definitely more pebbles and rocks which make it more difficult for easy walking, but very peaceful.
Another spot we checked out was Whiffin Spit! It's situated between the Sooke Harbour and Juan de Fuca Strait and offers a scenic walk. It's user friendly so anybody can come walk it and watch the sunset.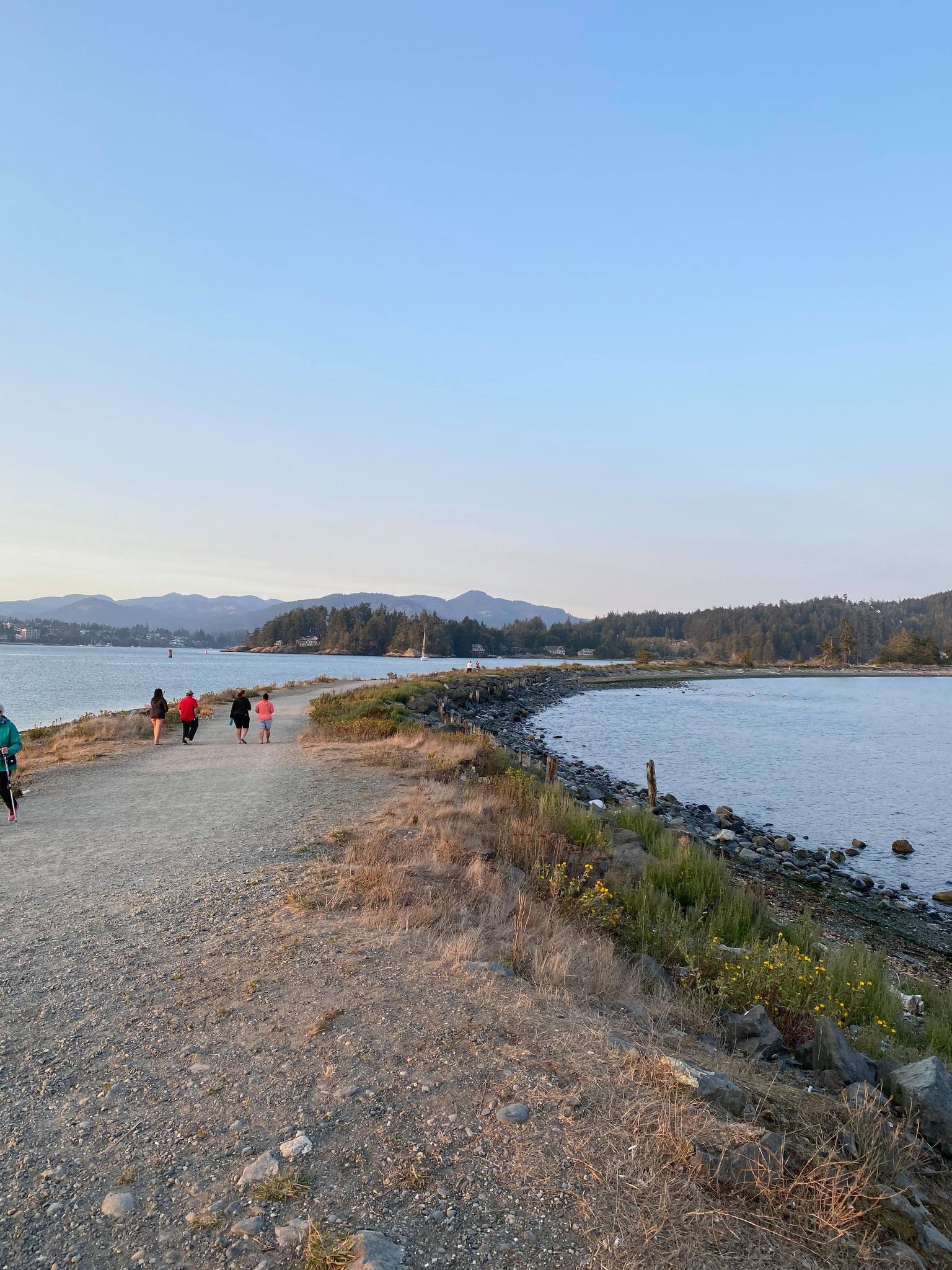 We didn't have time this trip, but another great spot we've been to is Botanical Beach in Port Renfrew. Here, you can see all kind of sea life and deep tide pools. It was one of my favorite parts of our trip when we visited last time! Port Renfrew is just over an hour drive from Sooke.
Another beach that is on my list that I haven't been to is Mystic Beach. A lot of you suggested going there! Apparently, there is also a waterfall.
Another neat spot we visited last time was the Sheringham Lighthouse! It was built in 1912 and is near the community of Shirley.
In terms of notable restaurants: Mom's Cafe, Shirley Delicious, Pizzability, Serious Coffee, and obviously Route 14 are some of the eateries we've tried and recommend.
Our last day, we headed back to Victoria to try out a brunch spot called Jam Cafe. There was a massive line-up but it was worth the wait! They had a variety of bennies and other things to choose from.
After that, we headed home on the ferry which concluded our short but amazing trip!
Vancouver Island is known for its coastal landscape, local seafood, numerous beaches, rain-forest hikes, and more. A long weekend isn't enough time to explore everything but if you have the opportunity to go, you must! I would argue that Vancouver Island is one of the most beautiful places in Canada I've travelled to.
Would love to hear if you check out any of these spots! Until next time!
-Jenna xoxo