Winnipeg + Terrace Travel Recap:
Even though there are many beautiful destinations in the world, I've always been super interested in exploring my own country. For the last 10 days, I was on vacation with my boyfriend and his family in Winnipeg, Manitoba and Terrace BC, Canada.
I know what you're thinking, uhhh… why there Jenna. Ha, ha.
I understand those places might not be one's first choice to travel to, but let me explain. My boyfriend's family is from Winnipeg and since we've been together, he has always wanted to take me there to show me where he grew up. His sister has lived in Terrace the last couple years so we decided to pop up there as well. And boy am I glad we did.
Let's recap:
Winnipeg unfortunately has a bad reputation. Known for its long cold winters and mosquitoes, a lot of people don't describe it as a desirable place to travel to. But actually, I found quite the opposite. Here are some fun facts I discovered about Winnipeg:
-All of their fire hydrants looked like this. I didn't understand what this big orange pole was for – it's actually because of the snow! It snows so much in the winter time in Winnipeg that these poles are put in place so firefighters know where they are.
Fun fact: Several years ago, there was a winter where it snowed so much that the whole city of Winnipeg closed down. How crazy is that?!
-On the contrary, there is so much GREEN in Winnipeg! I swear every neighbourhood had its own park. So many old classic houses backed on to the river with big, beautiful yards. I could actually see myself raising a family at a house like that. Here in Kelowna, I feel like all the new developments are these tiny little yards with houses so close together.
-Winnipeg is a very multicultural city with lots of friendly people (probably why Manitoba's license plate says "friendly Manitobia" lol). I found everybody to be very nice and helpful everywhere we went.
-There are so many mama papa/non chain restaurants – we checked out this place that a few of my Instagram followers told me about: Bridge Drive In (BDI). This old school ice-cream shop is exactly what I pictured when coming to Winnipeg. Look at that line up!
Fun fact: I actually met one of my Winnipeg followers from here – Haley. It was very cool to meet somebody that is a StuffwithSvet follower.
-Winnipeg's own version of Granville Island – "The Forks". One of my favorite days was checking out The Forks. The name derives from the Assiniboine and Red Rivers crossing together at a junction or "fork". At The Forks, there is sight seeing, museums, and various restaurants to choose from. I loved that you could order a flight a beer and walk around!
All around, I was pleasantly surprised how much I liked Winnipeg and would definitely go back.
---
Now onto the second half of my trip: Terrace, BC.
Kelowna is at the south end of BC, almost at the United States Border. Terrace on the other hand, is much more north. I had never been this far up north in BC so I was excited to see what it had to offer.
Where was stayed was about 45 minutes outside of Terrace, an area called Rosswood – right in the boonies. No cell service, no noise, just peace and quiet. It was wonderful.
Fun fact: Rosswood didn't have electricity until the early 2000's – that wasn't too long ago!
Here are some awesome spots I recommend you checking out in the Terrace/Rosswood area:
–Peeing Tree : An infamous landmark in Rosswood that has a pipe in the tree. It's known for a stream of water that comes pouring out of the tree. The water comes from a spring and is clean enough to even drink!
–Waterfalls: If you're a sucker for waterfalls, you must check out Wesach Falls. Located just off the highway, there is a little hike up to the falls.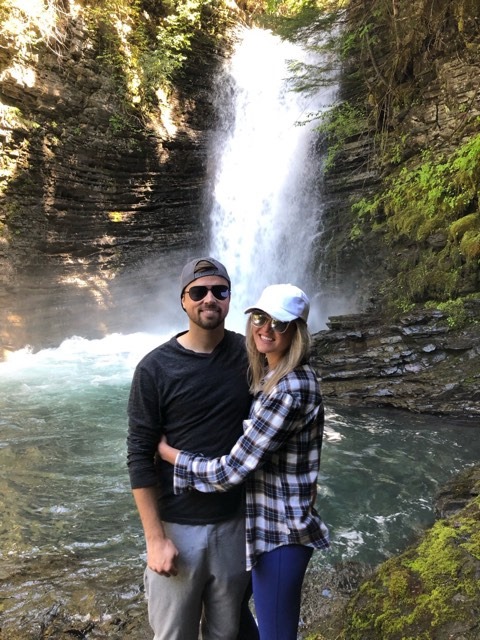 –Lava Beds: Canada's last volcanic eruption occurred in the Nass Valley approximately 263 years ago. The lava destroyed everything in its path, sparked fires in the surrounding forests, and covered two Nisga'a villages. More than 2,000 people perished. We walked all along the lava beds and even checked out a tree cast. Molton lava surrounded trees, pushed them down and set them on fire. If the lava cooled and hardened quick enough, it would make a mould of the tree like the one found here. Within some moulds you can actually see the the impression of tree bark in the lava.
–Suspension bridge: Another cool spot we checked out was the Gitwinksihlkw Suspension Bridge.
Fun Fact: It was the only access to the Village of Gitwinksihlkw for generations. All groceries, furniture, and accessories had to be carried across the bridge.
–Hot Springs: I have been to many hot springs but never to one like this. Aiyansh Hot Springs are natural hot springs – the water has a very strong sulphur smell, which may turn some people off but I loved it.
Fun fact: Sulfur dries out dead skin cells to help unclog pores. This then absorbs excess oil that may contribute to acne breakouts.
–Beach: We checked out the beautiful Kitsumkalum lake. The water reminds me of Kalamalka Lake here in Kelowna with the water color so green. One of my favorite parts of the whole trip was canoeing along the shorelines looking at the scenic views.
If I could leave you with a few takeaways from this trip…they would be:
Simplicity is better – Sometimes we get so caught up in our busy lives, it's refreshing to step away and enjoy the outdoors. A lot of the places we were had no cell service – it was so great to be present and enjoy everything nature had to offer.
Be prepared for mosquitoes – Surprisingly, there wasn't a single mosquito in Winnipeg. But I did walk away from Terrace covered in mosquitos bites. A great remedy for mosquito bites is to dab on hydrogen peroxide. I have pretty sensitive skin and sometimes my bites get so itchy. Dabbing on the bites three times a day really helps.
Check out your back yard – Sometimes we feel we have to travel so faraway to have a good time. That's not always the case. Sure it's fun to go to New York or Europe but travelling in your own province or own country also provides great fun. If it wasn't for visiting my boyfriend's family, I probably would've never went out of my way to visit Winnipeg or Terrace. My favorite part of the whole trip was actually Rosswood. I'm such a sucker for mountains and the lake. Plant me beside a body of water and a big mountain and I'll be happy. Something about that is so serene and peaceful to me and I'll never get sick of it.
Happy Travelling!
-Jenna xoxo