Vegan Poutine
My guest for this food challenge was vegan blogger, @kaitlyndickie. That being said, we had to obviously choose a vegan item to review. I didn't want do any ol' boring stereotypical vegan item like a salad or a smoothie, so we choose something fun. Vegan poutine!!!
Who doesn't love poutine?! It's fries with a bunch of toppings on top, ummm YUM!
So what makes good poutine???
The fries – You want them to be crispy and able to withstand the sauce, not soggy.
Toppings – I know the "classic" poutine consists of cheese curds and gravy, but I like when there are lots of toppings and poutines are more creative.
Melted cheese – Nothing is worse than chunky non-melted cheese. When you pick up a fry, you want it to be nice and gooey.
Let's review where we went!
---
Smoke's:
Smoke's doesn't actually have any designated "vegan poutines" but has multiple vegetarian poutines you can easily modify to make plant-based. For my food challenges, I only review local restaurants and technically, Smoke's is a chain. However, Smoke's is a Canadian franchise and a poutinerie so I thought it deserved to be a part of this challenge! Now for the poutine. The one we chose was the "Veggie Nacho", with added deep-fried cauliflower. So what were our thoughts? So goood! The cauliflower bites are mind blowing. I thought they could pass as deep-fried chicken ha ha; the same texture you would get from a Chinese restaurant. Salsa, guac, sour-cream, and jalapeños were the other toppings – basically a Mexican poutine! Which I personally love, I love Mexican food. The only critique I would give is that this poutine is quite heavy. But it's perfect if you want some comfort food or late night food.
Central: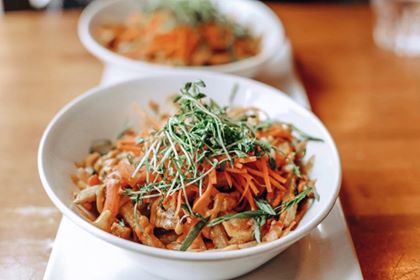 Central's poutine was called "Central's Plant Based Poutine". And let me tell you guys…it was amazing. It consisted of Central's house cut fries topped with vegan queso cheese, mushroom gravy, pice de gallo, scallions, carrots and pea shoots. Sounds kind of random on paper, but all the ingredients worked and produced impeccable flavor!!! The cheese is also so creamy and with the house made hot sauce added to it, made it dynamite. However, the cheese isn't "cheese curds" like you would expect in a classic poutine. I did love that there was a lot of veggies as it gives the poutine some brightness and cuts through the heavy flavor. You're not walking away from this poutine feeling super heavy but you're still getting the essence of poutine that you would want.
Renegade:
Our last stop was at Renegade –  a vegan restaurant in Kelowna. Fun fact: it used to be a food truck but recently expanded into a restaurant. Renegade had several poutines to choose from which is great. We chose the butter chicken poutine because we both love Indian food and were curious to try VEGAN butter chicken! I've seen many butter chicken poutines but not vegan ones. Renegade also gives you the option of having your poutine on fries, or on tater tots. We stuck with fries for the sake of this challenge. Let's get to the taste. Let me tell you guys, the butter chicken sauce was so good. The poutine consisted of "housemade white guy curry", soy curls, cheese curds, cashew sour cream, and cilantro. I could eat that butter chicken sauce on top of basmati rice and feel like I'm in Dawett. I'm so amazed they were able to achieve a creamy butter chicken sauce that is without dairy! Kudos to them! The cilantro on top also gives it some nice freshness since butter chicken sauce can be quite heavy. The only critique I had was that the cheese curds and cashew cream tasted very "vegan" to me. I didn't think it added much to the dish, I would prefer more of the butter chicken sauce as that's the star of the dish.
So where was my favorite vegan poutine?
The winner is…..
………………………………
………………………………………….
…………………………………………………………
…………………………………………………………………………….
………………………………………………………………………………………..
…………………………………………………………………………………………………..
Central!
I've said this before and I'm going to say it again. I eat out a lot. And there are many "good" dishes that I've had. But there is a difference between good dishes that I enjoyed in the moment but wouldn't care to have again. Then there are some dishes that are so good that I'll come back time and time again. Central's poutine was one of these dishes. If you watched my review on Instagram stories, you would've since I ate every last scrap of this poutine. The flavor profile just worked and it gives you the same satisfaction of regular poutine.
Again, ALL the poutines were very good! But if I had to pick a favorite, Central's is the one.
Thanks for tuning in and stay tuned for next month's #stuffwithsvetfoodchallenge 🙂
-Jenna xoxo