Greek souvlaki platter
Hello!!!
And welcome to the May StuffwithSvet Food Tour! Yes, I've made a name change as I'm switching the focus of my food reviews from being a competition to highlighting the restaurant. Before, I was always picking a "winner" but now, I'm focusing more on showcasing each restaurant. Yes, I may still pick a favorite, but it's shifted from the competition aspect to a food tour.
For the month of May, I did another home edition food tour due to COVID. Even though restaurants have re-opened, I still wanted to honor social distancing for this month by ordering take-out and reviewing the food at home.
This month, I featured Greek souvlaki platters! Greek food is so delicious but is underrated. Greek souvlaki is a popular Greek dish which is made up of meat or vegetables grilled on a skewer, typically served with greek salad, pita bread, rice, and lemon potatoes. A souvlaki varies with different options of meat, but I chose to do chicken for this tour.
What makes a great souvlaki?
-the meat marinade – typically the skewered meat is marinated in olive oil, lemon juice, garlic, oregano, and salt and pepper. You don't want dry meat.
-the sauce – Greek souvlaki is typically served with tzatziki or hummus. Tzatziki is a cold yogurt sauce consisting of garlic, dill, lemon juice, and cucumber. Hummus is made with mashed chickpeas, garlic, tahini, and lemon juice. Both are delicious and pair well with souvlaki platter. You can dip your pita bread, chicken, potato or whatever you please in it.
-the accompaniments – traditionally, souvlaki on its own are pieces of meat which are intended to be eaten right off the skewer. When a souvlaki platter, is is typically paired with lemon potatoes, rice, greek salad, and sometimes pita bread. Even though souvlaki on its own is street food meat, I love the sides because you get a little taste of everything and get to enjoy the whole Greek experience.
Let's review where I tasted from!
Olympia:
My first stop was at Olympia. I have ordered from them with my family since I was a kid. They are a family owned restaurant located in Rutland so not a lot of people know about them. Their souvlaki portion is very filling. Their souvlaki comes with the choice of chicken, lamb, beef, or prawn (2 skewers) served with Greek salad, vegetable rice, roast potato (2), and tzatziki. For the meat lover, this is great because there is lots of meat – for me personally, I wasn't able to finish both skewers. The rice comes with roasted vegetables which typically doesn't come with souvlaki. And then there is a lemon for some added citrus. Everything was quite tasty. The salad had a lot of cucumbers. The tzatziki was yummy but it definitely wasn't enough for the amount of food that was provided. All around, it was a tasty meal but a lot of food – which is awesome! You could definitely split between two people.
Yamas:
Yamas is another restaurant I have been ordering from since I was a kid (I'm born and raised in Kelowna so a lot of these restaurants have been around for a long time). Yamas is located in Downtown Kelowna. Their souvlaki version offers your choice of protein served with freshly made Greek salad, lemon roast potatoes, rice pilaf, and tzatziki. The obvious differences I noticed was that they serve just one skewer of meat and no pita bread. They provide a slightly bigger portion of tzatziki which is nice. And their tzatziki is also super tasty in flavor. However, I didn't enjoy their chicken as much. I prefer chicken to be a bit crispier while I found Yamas to taste a little rubbery. It could've just been this particular time as I do typically enjoy Yamas. The other differences is that they don't serve vegetables or the lemon – again, not a must for souvlaki but they are nice additionals.
Greek House: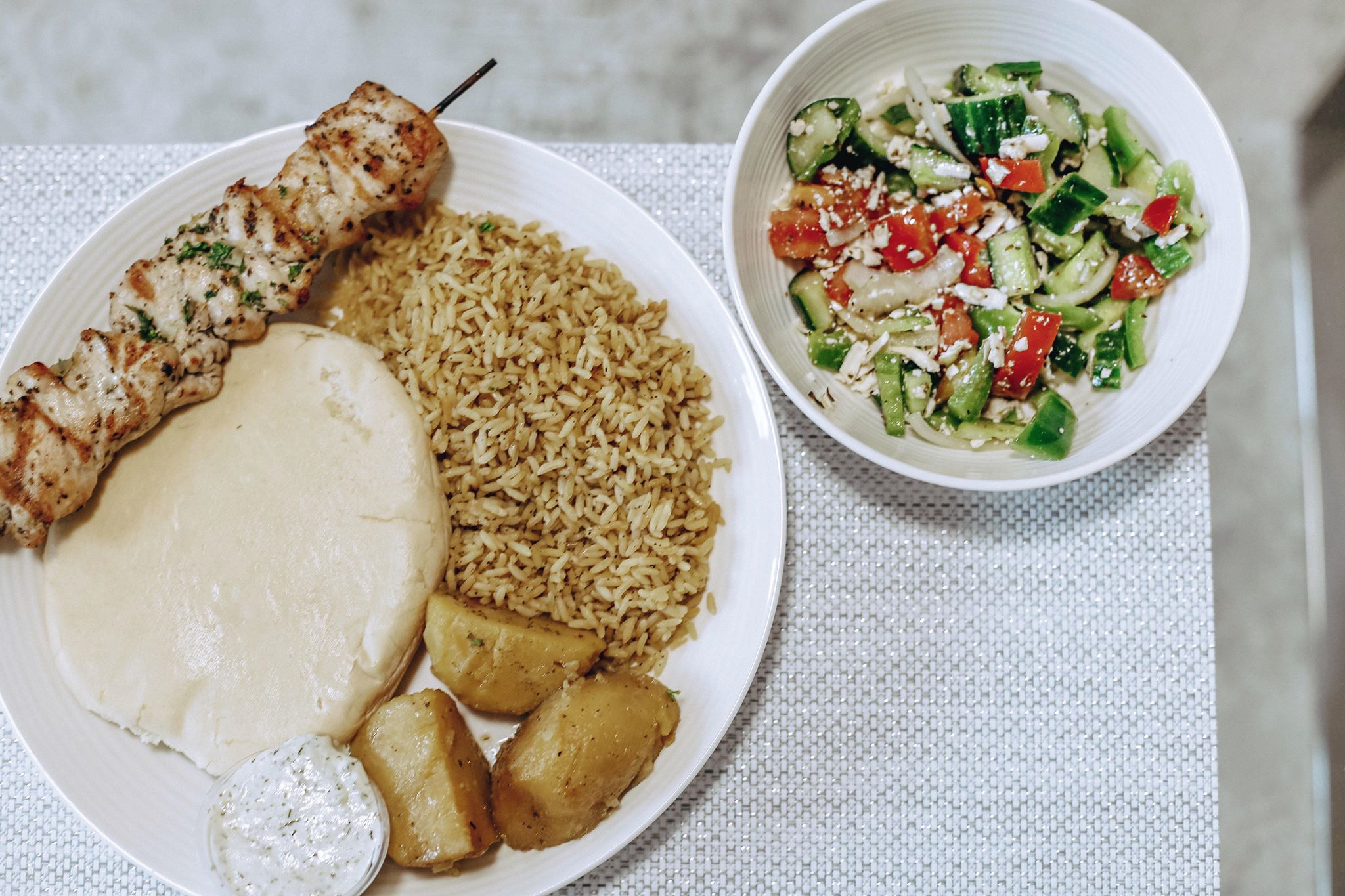 The last stop for the tour was at a little gem in Lake Country (just outside of Kelowna) called Greek House. Greek House is open all year round but I prefer making the drive out there in the summertime as they have a cute little patio with a fountain. In terms of their food, they offer whichever choice of meat with Greek salad, rice pilaf, roast potatoes, and pita bread. Right away I noticed they give three potatoes and one skewer of chicken. The platter was good but I definitely noticed Greek House's version definitely tasted healthier. It was a lot dryer in taste in comparison to the other restaurants which are more oilier. Their tzatziki was also my least favorite – it tasted quite watery. Again, lots of food though and their salad was yummy.
---
So who had my favorite?!
Even though this isn't a competition between restaurants anymore, I most of the time gravitate to one more than the others. For this, it was…….
………………………..
……………………………..
Yamas!
All the platters are super yummy but Yama's tzakiki is addicting.
However, I would recommend all these Greek establishments to you. I'll also note that the price point for Greek souvlaki platters are a little on the pricier side sitting around $20-23. However, you do get a lot of food so it makes sense as you are guaranteed full. The other thing I wanted to mention was that I would definitely check out these restaurants in person. I had to do take-out for this challenge but if you have the opportunity, check out these restaurants so you can experience their vibe. I'm not sure on Greek House, but I know Olympia and Yamas have belly dancers on certain days (typically a weekend night). How fun is that?!
Thanks again for tuning in! And I look forward to sharing my next StuffwithSvet Food Tour with you for June! It has now been ONE year of the StuffwithSvet food challenges! Can you believe it?! I wouldn't have kept on if it wasn't for you guys so thanks so much for your continuous interest and support. If you want to see the last year of restaurants I've checked out, click here.
See you guys in June!
-Jenna xoxo