8 Instagrammable Coffee Shops in Kelowna
There are so many aesthetic coffee shops in Kelowna! I for one love working in a coffee shop – I find I do my best work! I love a good cup of coffee, the vibe, and how being in a cool funky space inspires me.
Here's 7 instagrammable coffee shops in Kelowna you need to check out:
---
1. Bright Jenny
You might remember them as Canoe Coffee Roasters until they rebranded to Bright Jenny in 2020. The space is super unique as they have two indoor sections, an upstairs seating area, and an outdoor area. My favorite part is the stylish back building filled with antique furniture and art, the perfect place for a photoshoot. They've also held small markets in their outdoor space. Bright Jenny is located in the industrial side of Downtown Kelowna.
---
2. Pulp Fiction
Pulp Fiction is a quirky coffee shop situated in a bookstore with a massive beverage menu as well as food. The decor displays a collection of books with old movie posters on the walls. Pulp Fiction is located in Downtown Kelowna.
---
3. Deville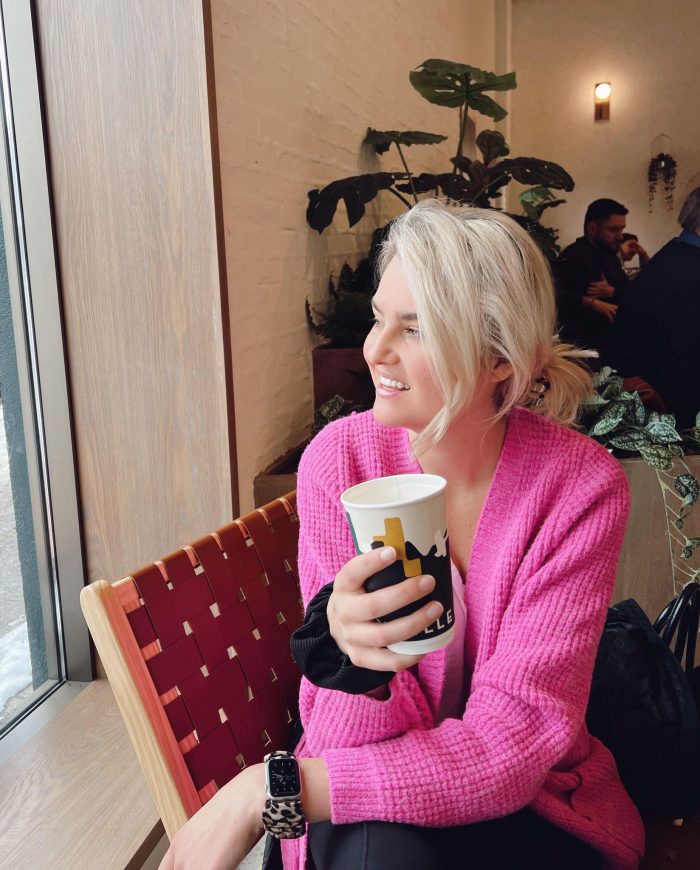 Deville is newer to Kelowna as it just opened up in 2021. It's a beautiful modern space that serves unique beverages such as their famous Nutella Hot Chocolate. Their marble slab tables are very instagrammable as well as their log stools. Deville is located at the old Starbucks on Bernard Ave in the heart of Downtown Kelowna.
---
4. Third Space
This is a funky space that not only serves great beverages, but tasty food as well all sourced from local businesses. The stand out is that Third Space is a non-profit for mental health. This is a great place to study but also a great event space. Third Space is located in the Landmark District.
---
5. Any of the Bean Scenes
There are multiple Bean Scenes in Kelowna and they all offer a slightly different vibe. I love the one in the Landmark District as it's very industrial/gives off big city-like vibes. The one in Downtown Kelowna has two floors with an outdoor patio upstairs. The one in the Lower Mission was converted from an old house so it has lots of character and an upstairs and downstairs. Check out any of the Bean Scene locations!
---
6. O'Lake Cafe
This is a trendy cafe with PINK walls! Yes you heard me right. In addition to coffee, they also serve bubble tea and desserts. O'Lake is located in Downtown Kelowna.
---
7. Sprout
Sprout is a bakery and coffee shop. It is very spacious with indoor and outdoor seating with not only amazing coffee, but amazing bread! Sprout is tucked away in an alley in Downtown Kelowna.
8. Analog
Analog is a small, aesthetic, earthy toned space with great coffee.
---
There we have it! Did I miss any other coffee shops? Where is your favorite?
If you're looking for other instagrammable places in Kelowna, check out my blog, The Most Instagrammable Places in Kelowna!
-Jenna xoxo